After a bit of a break, we're back at it with our Social Media News Of The Week section. This time we'll be talking about: 
Musk's Twitter Reforms – 8$ Verification Ticks
Instagram Now Offers In-App Post Scheduling Tools For Professional Accounts
And
Pinterest Is Striving To Become The Go-To Gift Discovery Platform
Musk's Twitter Reforms – 8$ Twitter Blue Package
It's probably no news to you that Elon now owns Twitter. In fact, everyone seems to be talking about it. And with the new ownership comes a lot of turmoil and plenty of reforms. 
As per Musk's recent tweets on his changes to how things are run at Twitter, he now says that verification ticks might be offered for all the platform users for a mere $8 a month fee. That is $96 per year. In his words, this is supposed to battle the class divide in the app.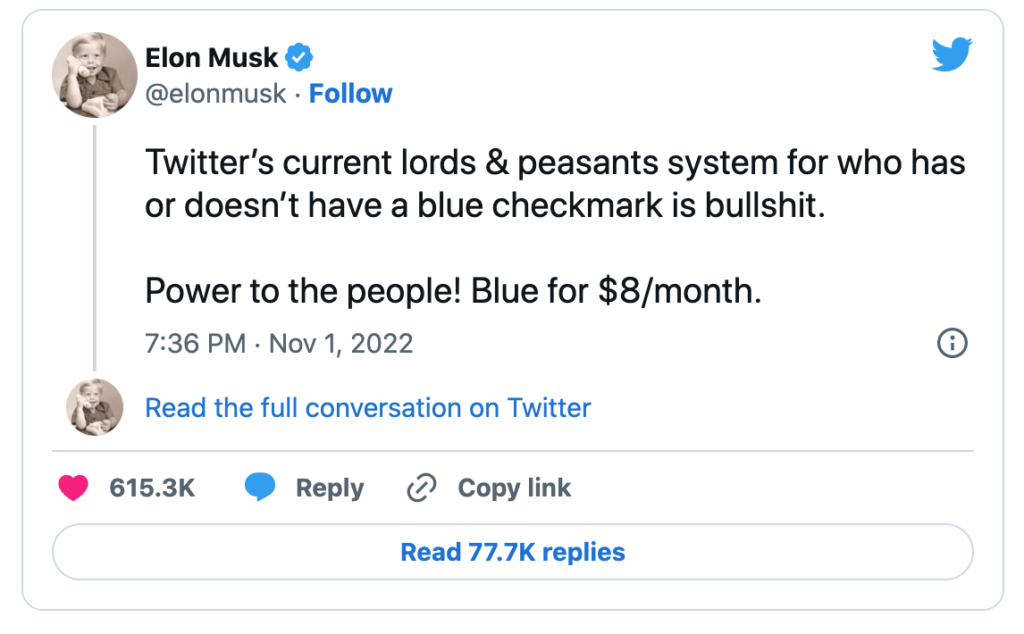 Okay, to be fair, this nice lump of money per year will get you a bit more than just verification ticks as the package will also include: 
Priority in replies, mentions, and search
Ability to post long video and audio files
Half as many ads
Paywall bypass for selected publishers
The last one, though, is kind of interesting as it relates to an already existing 'ad-free articles' element of the Twitter Blue package. Which Twitter has just canceled overnight by sending this notification to participating publishers: 
 "Starting tomorrow, we will stop displaying the "Twitter Blue Publisher" label on any Tweets containing your articles. We will no longer be sending a Twitter Blue token when people on Twitter access articles from your properties. This will prevent the ad-free experience on your site from loading."
This makes us think that either Musk didn't like some of the publishers or he wanted them to agree to new terms before the release of the Twitter Blue package update. 
Okay, so this upgrade, with its $96 annuity, is supposed to battle bots and scammers in the app. And that's probably how Elon sees the class divide – humans vs. bots, instead of rich vs. poor.  
But who will actually pay said lump of money for just a couple more features? Rich kids, probably, and the content in the app might just become real boring real fast, with their tweets shown plenty more times for the app's 'freeloaders.' 
As of now, it is pretty clear that Musk's idea of 'saving Twitter' is by implementing subscriptions, which seems, in our eyes, a pretty flawed tactic. 
Instagram Now Offers In-App Post Scheduling Tools For Professional Accounts
Although you could already schedule your posts using Creator Studio from 2020, we can definitely see how this in-app version of the tool could make it easier to schedule posts on the go. Especially when it comes to Reels, as this could help maximize your content performance. 
But back to the actual news here. After testing the new in-app feature for a couple of weeks, Instagram is finally rolling them out to all professional accounts in the app.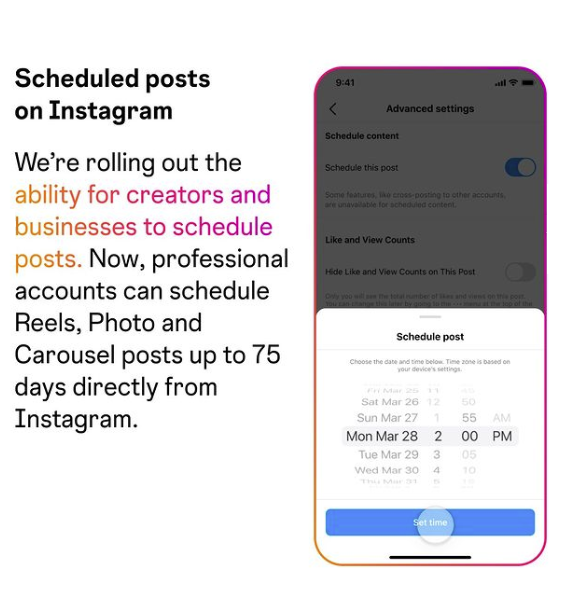 So, Instagram's new post-scheduling option will encompass photos, Reels, and carousels which you'll be able to schedule up to 75 days in advance. 
And here's the flow if you'd want to schedule Reels: 
Tap 'Advanced Settings' in the creation flow before sharing the post
Select 'Schedule this post'
Select the time and date you want it to go live
Tap 'Schedule' in the post composer
Although Instagram says that this option will only be available to Professional Accounts at this stage, here's a hack – anyone can switch to a Professional Account by choosing the option in the account settings. 
Pinterest Is Striving To Become The Go-To Gift Discovery Platform
With people's Pinboards and the latest trends, Pinterest could be an excellent source for gift ideas. Pinterest knows this and is now pitching itself as such in a new ad campaign. 
Here's a further explanation from Pinterest: 
"The holidays are huge on Pinterest, and this year is shaping up to be one of the biggest holiday seasons ever. We know bad gifting is universal, so Pinterest is here to help you find the perfect gift for everyone in your life. Whether it's peeking at someone's boards, searching for things they like, or browsing on the Today tab for ideas, there are so many ways to find gifts everyone will love on Pinterest."
Pinterest's stance is that with over 400 million active users, the platform is well-placed to highlight gift trends based on search activity in the app. And we can absolutely see how Pinterest might become the number one tool for gift-searching with the campaign outlining everyone's thoughts. So even if you're not an active user, you might be tempted to at least check out this option after seeing the ad. 
And if you're a brand, it might be just about time to get your products listed on Pinterest. 
In addition to the cool campaign, Pinterest has also comprised its own holiday gift guide. And not just some guide, but one that is based on zodiac signs and their gift preferences. 
Here's how it looks: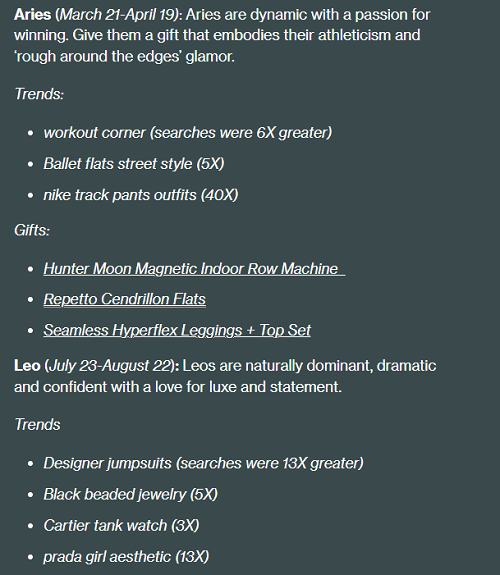 Whether you believe in zodiac signs or not, if you're in a situation where you have to give something to a person you know little of (for instance, office Secret Santa), this gift guide might be worth giving a shot. Maybe the stars will align; after all, there's no knowing without trying.