Hello, and welcome back to our Social Media News Of The Week section. This week we'll be talking about the following:
Instagram's New DM Labels To Help Manage Customer Interactions
Snapchat's Experimenting On 'Story Boost' Option
And
Meta's Guide To Key Factors Influencing Consumer Decisions
Instagram's New DM Labels To Help Manage Customer Interactions
With over a billion people using Meta's apps to contact businesses every week, it is only natural that Meta is looking for new ways to maximize connection through its platforms. It also only makes sense for IG to lean into these behaviors wherever it can and provide tools for the client to business communication.
The latest tool in this roster is Instagram's DM labels. As for now, they are still in the testing phase, but we already have a sneak peek preview of how they are going to look.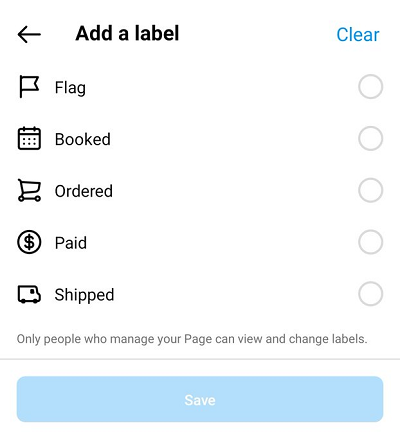 As you can see in the image above, Instagram is looking to add five new labels to IG Direct messages to help businesses manage their interactions in the app better. Those fice labels are:
Flag
Booked
Ordered
Paid
Shipped
This addition could be genuinely helpful for small businesses that don't have access to more complex customer relationship management features, as the labels would provide a simple way to stay on top of important interactions.
These labels will be a nice addition to already existing welcome messages and saved reply DM features for businesses, and we're hoping to see them available in the near future.

Snapchat's Experimenting On 'Story Boost' Option For Snapchat+ Subscribers
For starters, let's talk a bit about Snapchat+. If it's your first time hearing about it, it's a subscription that allows you to access exclusive and pre-release features of the app for a mere $3.99 monthly fee. So, basically, an upgraded version of Snapchat that's full of nifty features to put your content one step ahead of your friends'.
Okay, now back to Story Boost.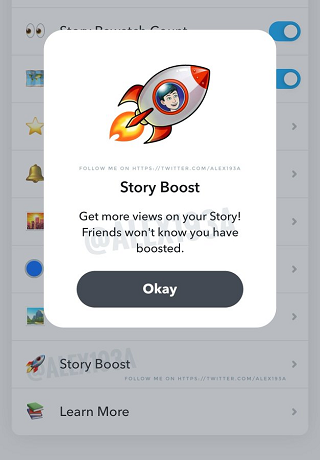 Snapchat is looking for ways to help Snapchat+ subscribers gain visibility to their content in the app, and their idea (which is still in the testing phase) is something called a Story Boost.
The feature will seemingly make your Stories more visible without your friends knowing that you've boosted. Nice touch there!
Although it's unclear how this Boost option will work, it's safe to presume that your Story will be given priority and displayed among the first Stories to each of your contacts every day. However, if it were a public Story, it might also be shown to more randoms and maybe shown via discovery means. That said, there's not much room for speculation until the feature actually drops.
So, nothing solid to go on as of yet, but it will definitely be interesting to watch Snapchat implementing paid reach tools for Snapchat+ subscribers for organic content and whether other apps will follow suit on their subscription formulas.

Meta's Guide To Key Factors Influencing Consumer Decisions
We love ourselves a good report, and this new one from Meta in partnership with Publicis Data Intelligence and incorporation of insights from 1,000 consumers is just great.
The report is called Creating An Omnichannel Strategy Through Influential Touchpoints, and it looks specifically into South East Asian market trends on the elements that drive consumer action. Now, although the report digs deeper into a specific market, the findings there are pretty universal and applicable in the creation of any strategy directed toward consumer incentives.
And wouldn't you know it – the main factors that drive consumer decisions are video, social commerce, and recommendations. See, told you the findings were pretty universal. Let us quote Meta here:
"Video has the highest engagement rate of all content types. Whilst TV is considered the most influential video touchpoint; Facebook is one of the most efficient video channels due to accelerated digitization and increased mobile video consumption."
And although it's no news that video is the ruling type of content these days, you might not have expected TV to still be the most influential ad tool in many markets today.
However, efficiency is also a very important factor:
"While studies have shown that TV is one of the most influential touchpoints in driving purchase decisions, marketers should also be mindful of the cost associated with it. Separately, Kantar research has shown that despite TV continuing to be the most invested video channel, when we look at reach per investment versus other digital platforms such as Facebook and YouTube, its cost is 2x higher."
So, although TV is still the prime advertising channel for those who can afford it, online video ads can be more effective from a cost-benefit standpoint since they can offer better targeting that stems from increased usage of digital channels.
Furthermore, many people do not watch regular TV channels anymore, so before pouring your money into a TV commercial slot, find out where your audiences are. If the only way to reach them is through digital platforms and content – you have your answer. But yes, TV ads are still the most influential; however, digital campaigns can be just as, if not more, effective in balancing costs and placement.
Another key factor highlighted in the report is social commerce. Take a look at the image below: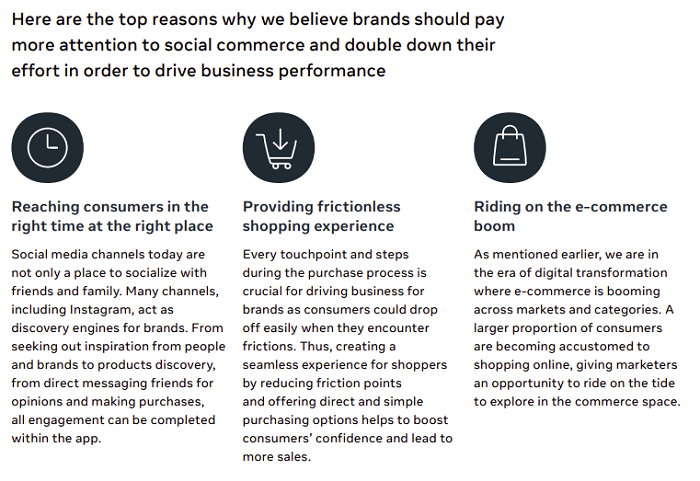 Lastly, Meta outlines the importance of recommendations in driving consumer decisions with influencers, of course, taking center stage in this endeavor:
"Nielsen reports that 92% of consumers believe recommendations from friends and family more than advertising, and 74% of consumers identify word of mouth as a key influencer in their purchasing decisions. Tactics such as influencer marketing on digital touchpoints are one of the most popular ways in generating word of mouth where marketers would leverage influencers to create 'buzz' – they are the ones spreading the word about a specific product/service."
Although these trends come from a report directed at the South East Asian market and will present some variances in others, the factors themselves reflect general behavior shifts that seem to be true everywhere. So, read on, take it in, and prepare to tweak your marketing outreach plans to maximize your efforts moving forward.