Influencer marketing opens up a real motherlode of possibilities for promoting real estate. Customers and followers always cherish new, creative, original, and informative promotions, and the real estate industry isn't the one to fall behind on this trend. 
In this article, we've rounded up six examples of real estate agencies and realtors collaborating with social media influencers and reaching thousands of possible customers, gaining followers, and making sales on their way. 
Bedrock Real Estate
Bedrock Real Estate produced an ode to their own town – Detroit. They wanted to show the real Detroit and not the downtrodden side of it that is usually portrayed in the media. 
So, to get their message across, Bedrock Real Estate created a short film called Anthem of Us by collaborating with dozens of local influencers to make Detroit residents proud of where they live. Although the narrative was unscripted in the video, it came out pretty powerful in showing the human side of Detroit. 
Bedrock relied on the creators' organic reach to communicate their message and the video received half a million views even before the brand opted for a paid strategy. 
Enchanted Woods LA
Open houses aren't usually events of great excitement and enjoyment. At the very best, you're getting a glass of cheap bubbly if it's something on the more expensive side, but usually, it's just some useless flyers. 
However, that doesn't mean that all open houses must be a snooze fest, and Enchanted Woods LA took the chance to make theirs into an influencer fiesta. 
So, to promote a real estate piece, Enchanted Woods LA invited a couple of influencers for a stunning photo op all around the estate. The photos, of course, were shared by the influencers themselves and the agency, giving the whole ordeal loads of publicity and a glamorous appeal.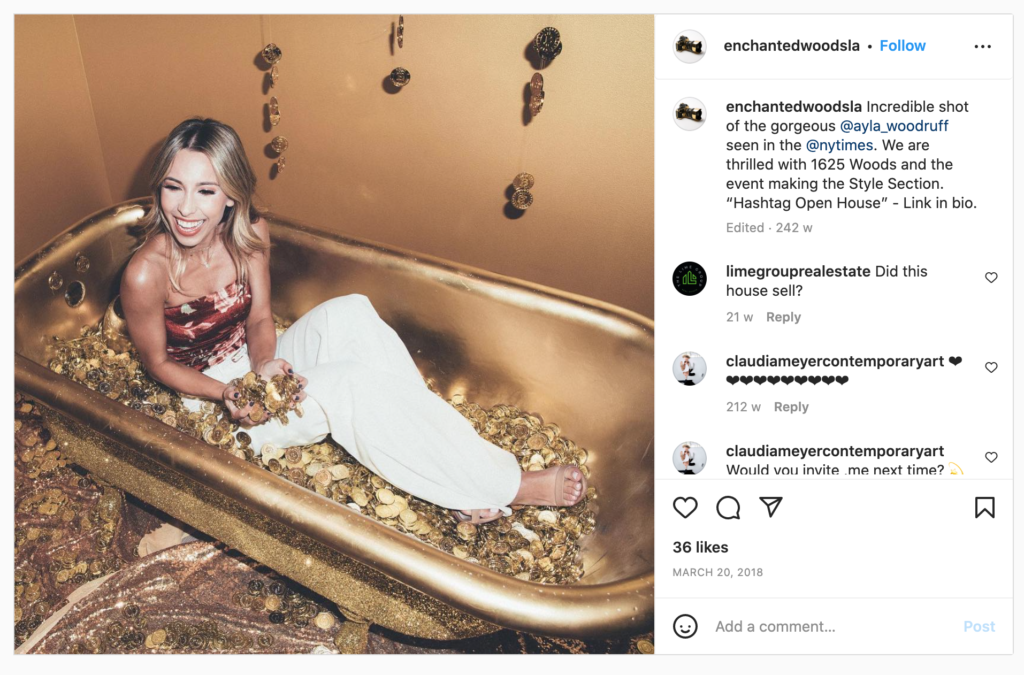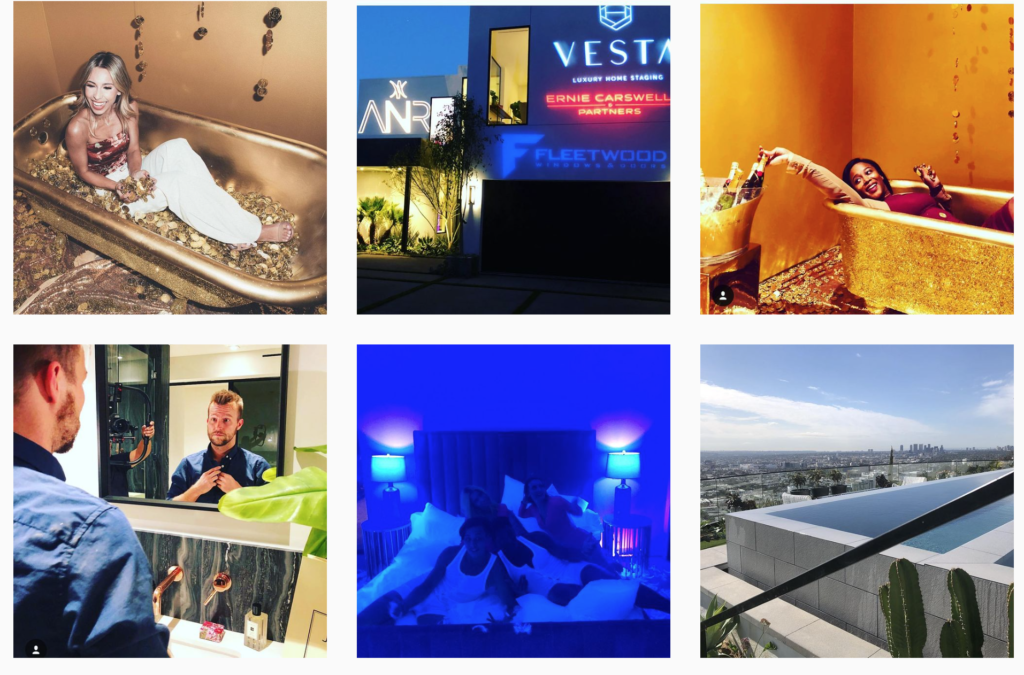 Embassy Gardens
Embassy Gardens, a riverside neighborhood in London, know the importance of community. Everybody wants to be a part of the community (or feel like they belong), so Embassy Gardens chose to work with micro-influencers to promote their project. 
So, if you were to visit Embassy Gardens' Instagram page, you'd see tons of posts of residents, their pets, staff, local cafes, and plenty more. And it's all just a clever example of how to promote a real estate business through creating a Fear Of Missing Out (FOMO).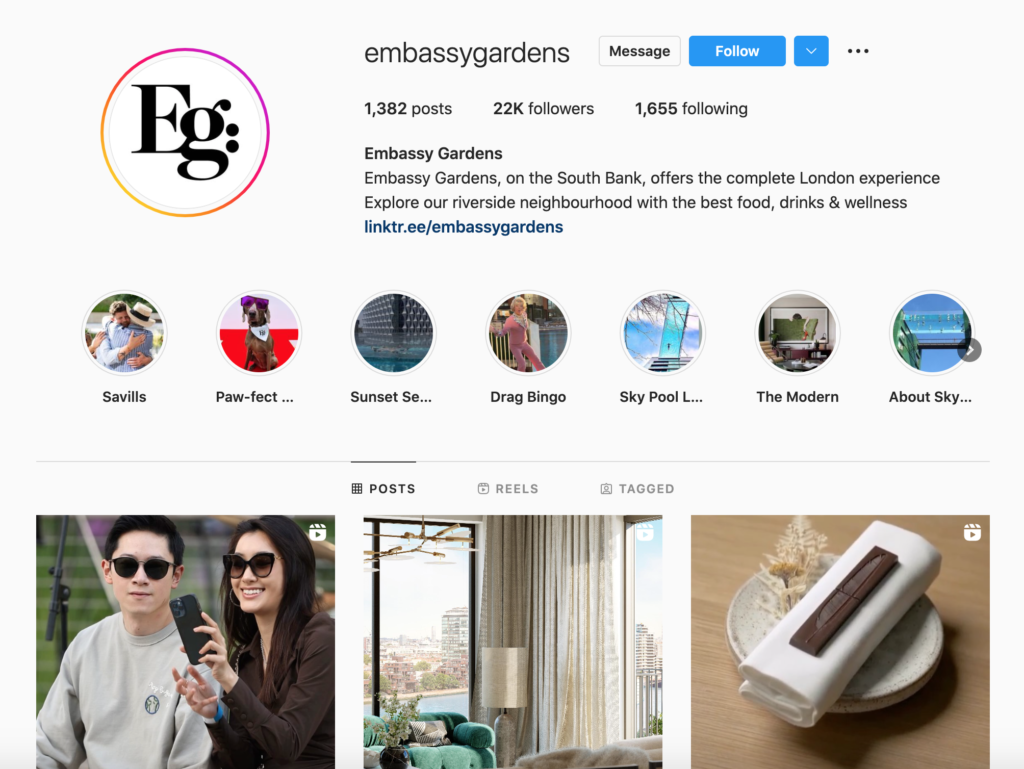 Blackberry Farm
If you've decided to work with influencers to promote your real estate business, why not become one of them yourself while you're at it? 
Take a look at Blackberry Farm's Pinterest page, where they share images from life at the farm, the events that take place there, design solutions, and even animals. And because customers love beautifully-curated everything, Blackberry Farm's Pinterest page has gained around 4.5K followers with almost 26K visitors a month.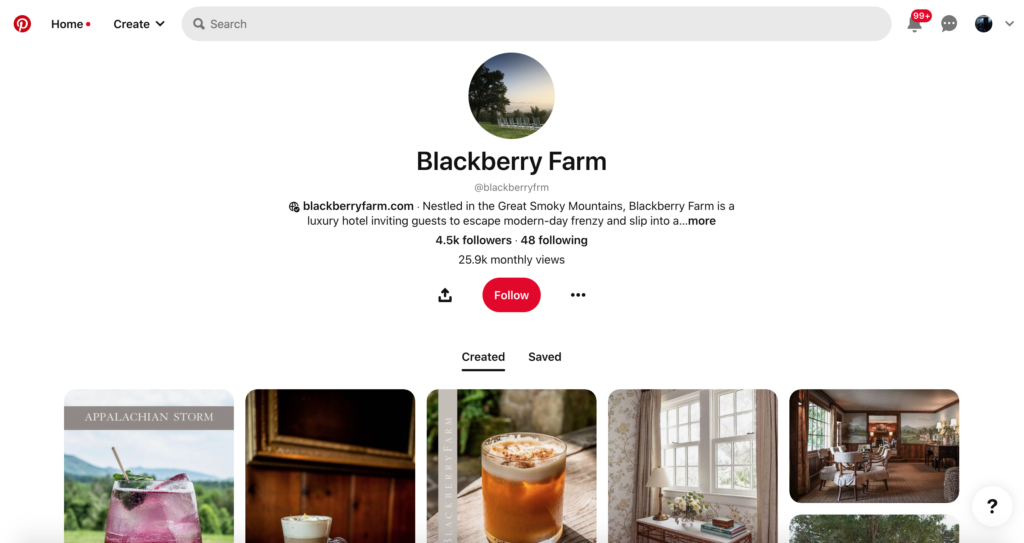 Better Homes And Gardens Real Estate
To be fair, Better Homes And Gardens Real Estate has many promotional activities going on, but we'd like to highlight their collaboration with Amy Chorew – curated learning and proptech consultant. 
Since 2012, she has worked as a Vice President of Learning at BHGRE, and her Twitter page, with over 20K followers, is a shining example of captivating customers with educational content. 
From real estate actualities and investing to crypto and blockchain insights, BHGRE's collaboration with Amy promotes the agency and gives followers some truly interesting insights. 
So, why not think about an ambassadorship with an expert in the field and promote your business through their messages?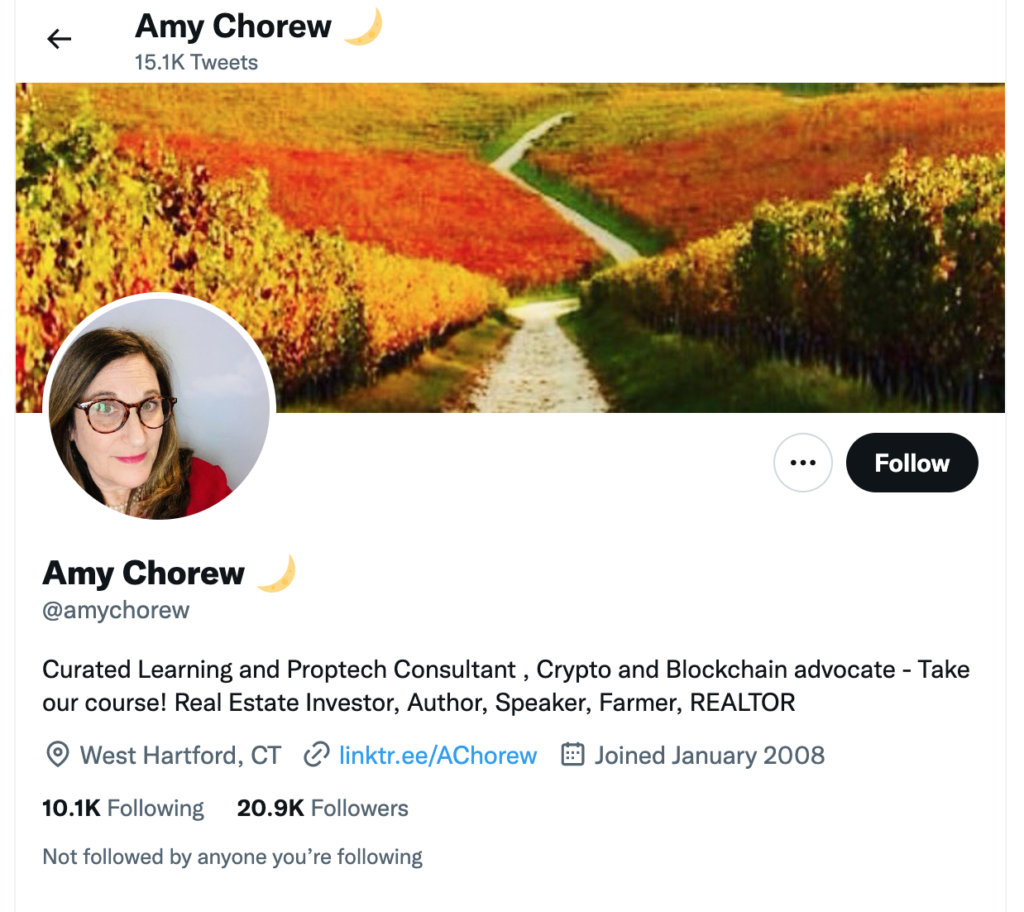 Crighton Rinaldi Team
Forming a relationship with your clients is especially important if you're a realtor and Ashley Tingstad, an agent with the Las Vegas-based Crighton Rinaldi Team, knows this very well. That's why she uses a mix of TikTok and Instagram to showcase not only the estates she's selling but also her creativity and sense of humor. 
An agent who's accessible and relatable could make the possible buyers feel more at ease and heard; that's why we think it is always a good idea to get rid of the superficial mystique surrounding real estate agents. Without a doubt, such a realtor's presence is also a great promo for their agency as a whole. 
So, as you can see, the possibilities here are truly endless – from creating FOMO to sharing valuable insights via your influencer, the influencer marketing world is your oyster. And, if you're considering promoting your business with an influencer collaboration, why not do it the easy way by running your campaign with us?