Just recently, we did a nice little article on influencer Christmas campaigns from all over the world, and now it is time to review the festive campaigns done in our own market in the last year. 
From collaborations with influencer megastars to partnerships with micro-influencers and a change of tone from established brands, last year's Christmas season was definitely an eventful one in the world of influencer marketing. 
So, if you need some inspiration or if you'd like to do some research on your competitor's moves, scroll on down below to check the campaigns we've rounded up in this article. 
Oh, and if you need an intro to festive influencer campaigns, check out our article on Christmas influencer marketing strategy here.
Gera Dovana 
For their Christmas promotions last year, Gera Dovana chose to collaborate with a couple of Instagram's own biggest stars. One of the stars was @Naglimantas, who is well-known for his stunning visuals and entertaining descriptions. 
Since Gera Dovana's gift assortment caters to people with varied interests – adrenaline junkies, spa lovers, and cultural society, just to name a few – their choice of collaborating with mega influencers was absolutely reasonable. Since their products are not specific and not meant for a niche group of customers, the massive spread of their message via famous influencers was, in fact, more targeted than if they had chosen to collaborate with micro-influencers.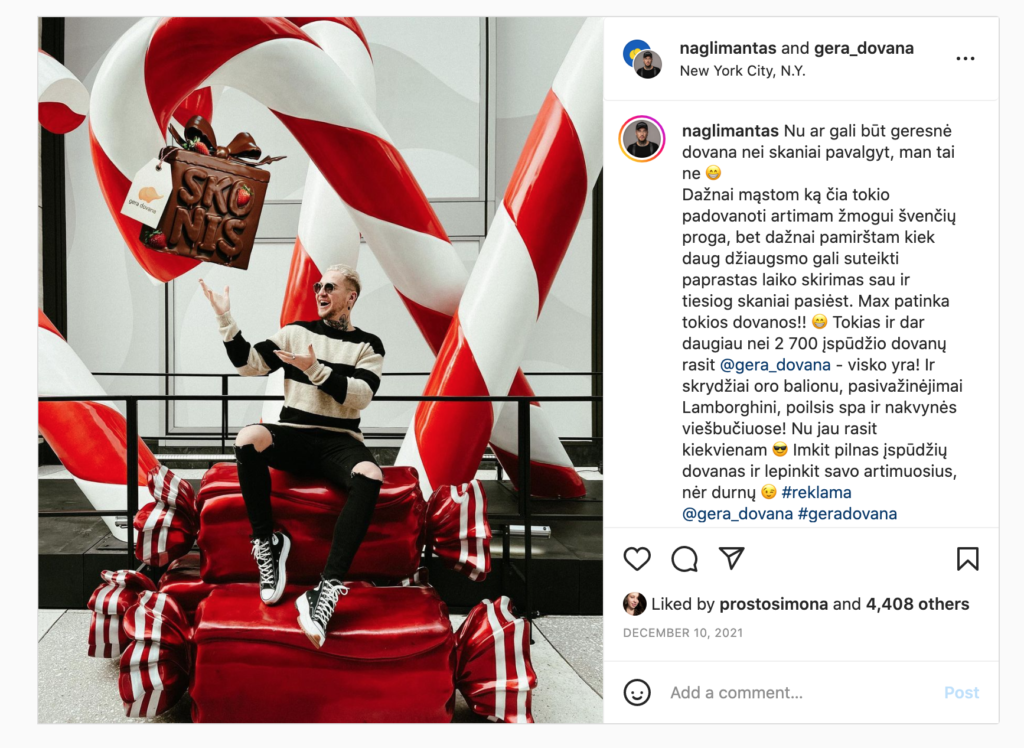 Omniva
Do you remember the times before parcel pick-up spots? Neither do we! And since these pick-up spots are now absolutely a vital part of Christmas shopping, Omniva jumped on the influencer marketing wagon to spread the message even further. 
So, last year, Omniva paired up with some of the most followed Lithuanian Instagrammers – @jasnauskaite and @karolinameschino – for a series of promotional content pieces where the duo is dressed as Omniva's Christmas elves. One of them was this fun little video with the pair delivering parcels and, ultimately, saving someone's Christmas. 
The cheeky little video gained almost 20,000 likes and plenty of comments and worked like a charm in delivering Omniva's message. 
P.S.: Did you catch the cameo of the legendary @LavTwins in this video?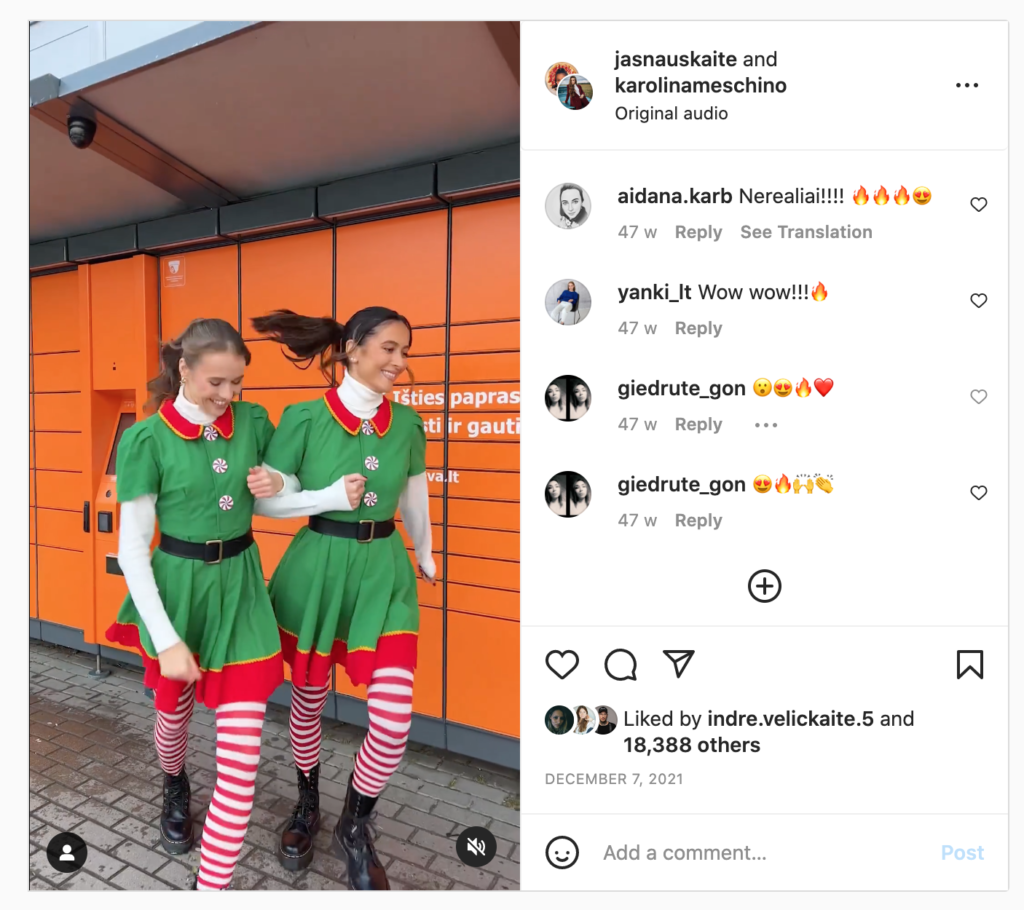 Lindex
Lindex is well-known for its warm, inclusive, and feel-good campaigns, and those aimed at the holiday season also follow brand messaging perfectly. 
Although the brand collaborated with various influencers from different industries – photographers, lifestyle influencers, fashionistas – they also did not forget those oriented towards cozy family life. So, one of their choices for creators was @ieva.macke, who created this heartwarming video of her kids and her waiting for Christmas donned up in Lindex's festive pajamas. 
And, guessing from the comments, the influencer's followers found this video to hit just the right spot, which was also great news for Lindex, too.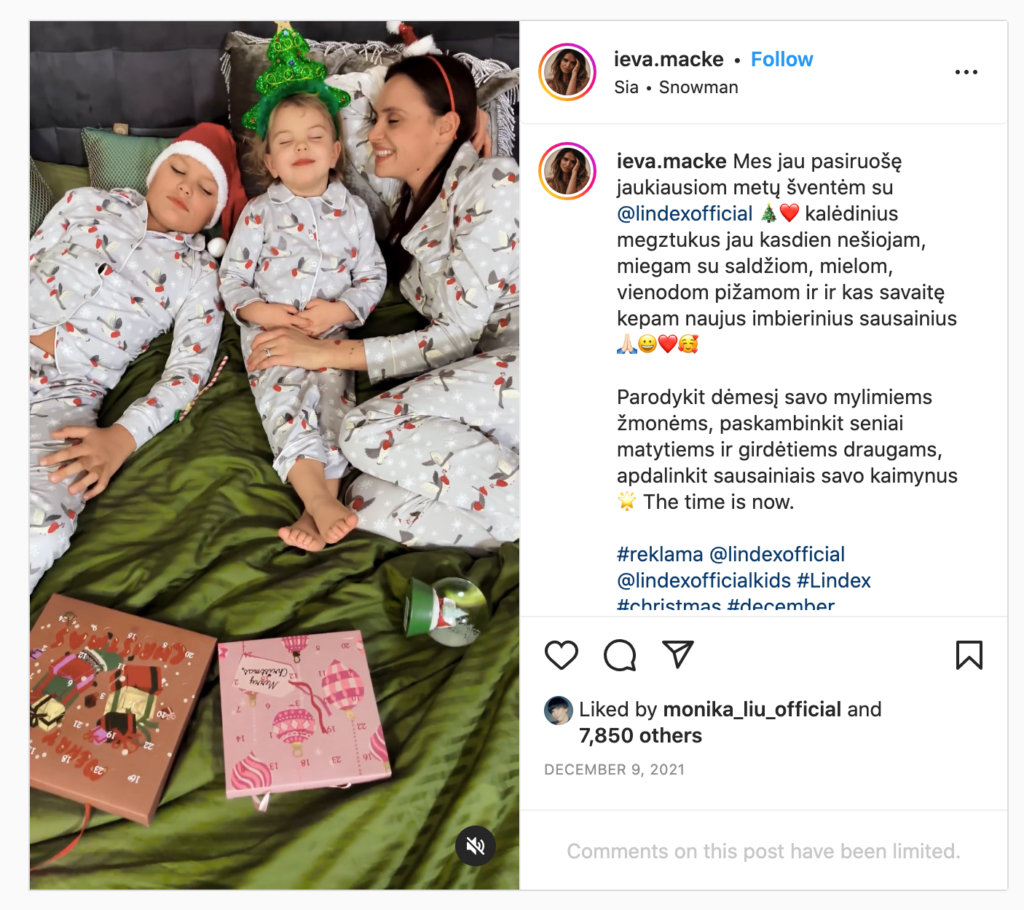 Lietuvos Paštas
While Omniva chose to accentuate its stance as the gift deliverer, Lietuvos Paštas decided to choose a different take on its holiday promotions. So, instead of promoting their post services, they promoted themselves as a place to buy gifts. 
And it only makes sense, doesn't it? You go to the post office, buy a gift, and send it immediately without even having to change your location. To translate this message to potential customers, Lietuvos Paštas collaborated with several influencers for festive content pieces, like this one from @sokoladass, where the creator talks about home fragrance assortment you can find at the post offices.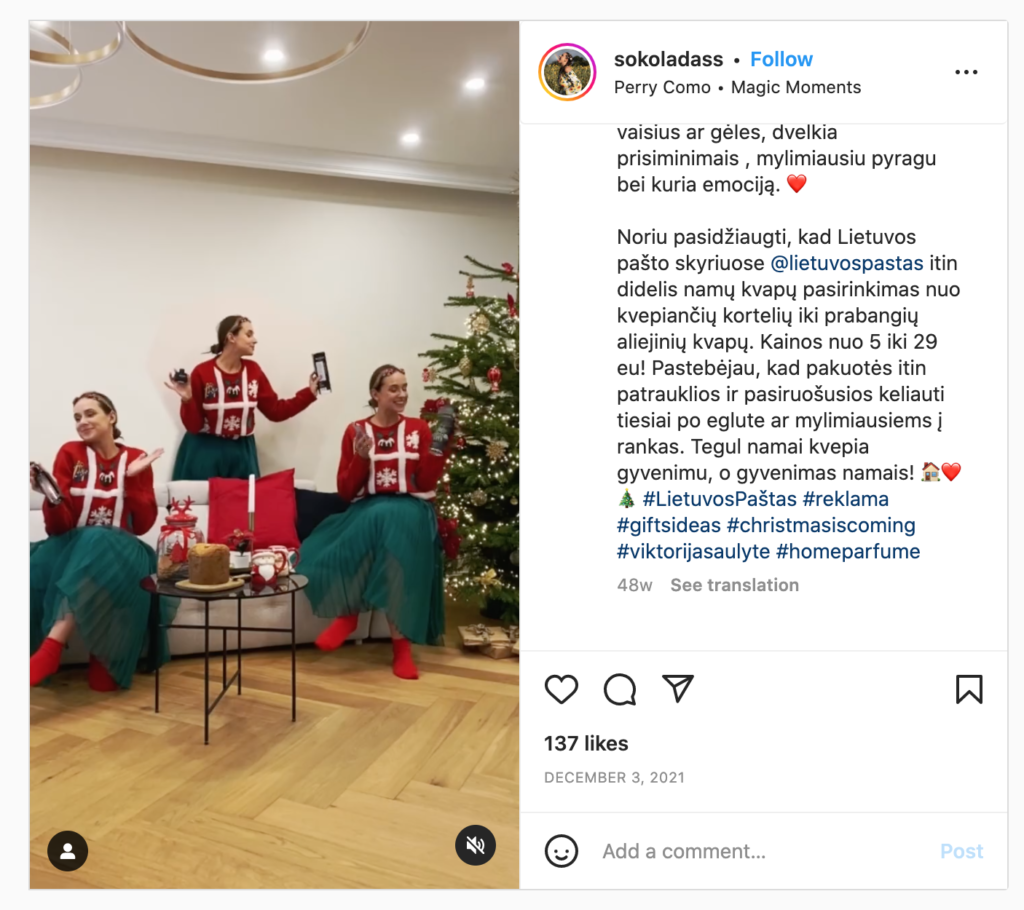 Maxima
Here's another retailer on our list that took a stance as the place to get your Christmas shopping done. And although thinking of Maxima, you might be thinking of Christmas Eve dinner rather than of Santa's little helper, that was exactly the message this shopping giant wanted to translate to its customers. 
So, to spread the message, Maxima collaborated with @ziedunemar, who created a carousel post with gift ideas that you could get directly from Maxima while shopping for your groceries. And, as we all know so well, a list of gift ideas is what busy shoppers usually want to see!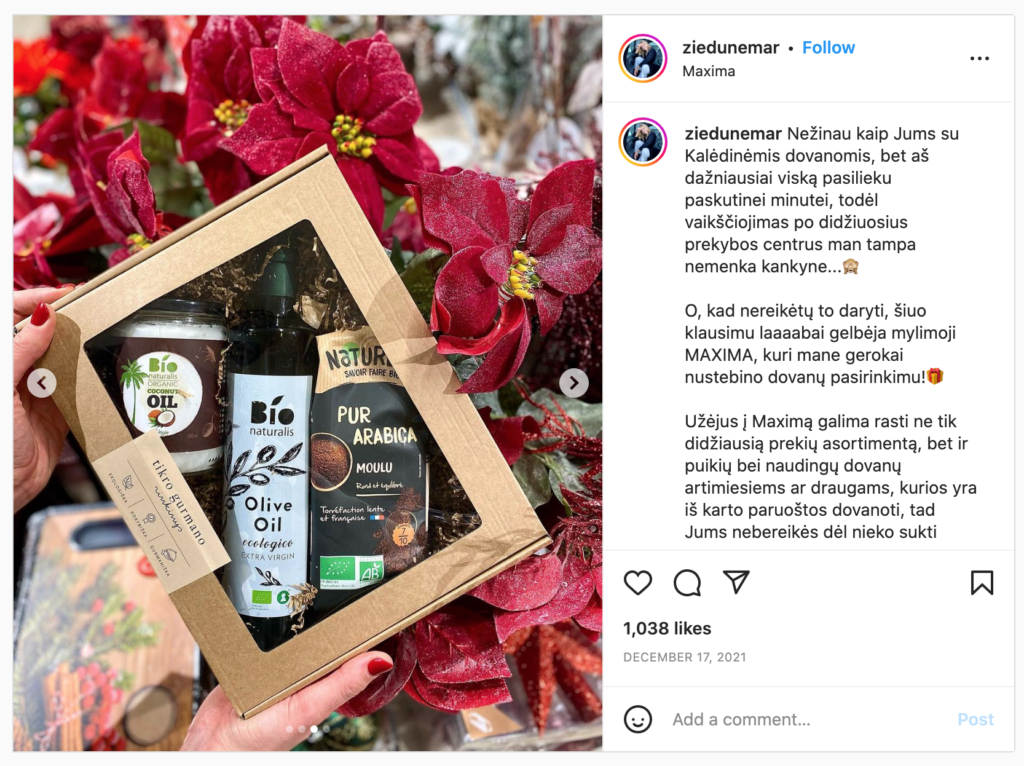 Pergalė
Pergalė, a legendary brand known for its delicious chocolates and cookies, is not the one to miss a chance to release a limited edition holiday-themed confectionery. From incredibly aesthetic packaging to undoubtedly delicious candy inside, Pergalė nailed their product and needed to get the word out to raise everyone's anticipation about it. 
And whom do you collaborate with when it comes to various foodstuffs? Why, of course, with @beatanicholson, just the most famous food and family influencer in Lithuania. All it took was a nice video from her presenting Pergalė's festive treats, and the word was out.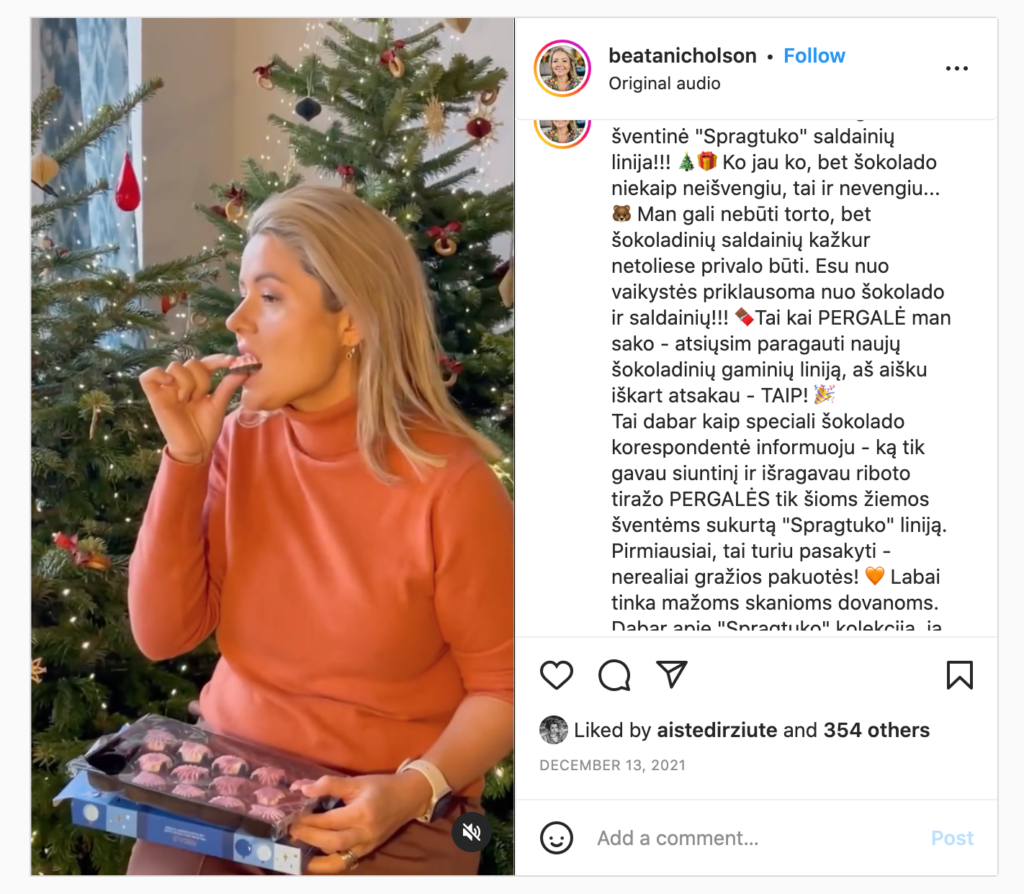 Manilla
And last but definitely not least on our list is the beauty and cosmetics brand Manilla. For their Christmas campaign, they've collaborated with a self-proclaimed fashion lover and traveler, @jasnauskaite, for a festive video to promote the brand as a place to get the perfect gifts. 
Besides an eye-catching video, Manilla also created a personal promo code which is always a nice little touch from the customer's side. Also, a means to count direct sales from the campaign – so, a definite win-win situation. 
Agenic works with over 200 reliable Lithuanian influencers who are ready to rumble and help you spread the Christmas cheer in your upcoming campaigns. So, why not make things easier for yourself and choose to work with them?