The holiday season is the most demanding when it comes to ideas. Gift ideas, party ideas, celebration ideas, and, of course, influencer marketing campaign ideas to keep up at the same level as the other rival brands. Now, we do understand that your ideas might already be drenched out of you as is, and the least we could do to help you is to round up some excellent ideas for your holiday season influencer campaigns. 
We've already reasoned why you should launch such a campaign this year if you haven't already in our previous article (ADD LINK). But if that didn't convince you, these examples just might. So, scroll on down below and check them out! 
E.l.f. Cosmetics
E.l.f. Cosmetics is no newcomer when talking about great social media campaigns and influencer collaborations. However, even such brands rely from time to time on tried-and-tested means to raise brand awareness and drive sales. And what's a better idea for holiday promotions than an Advent calendar? So, last year, E.l.f. Cosmetics launched an influencer-based campaign that offered a giveaway each day for twelve days to promote their holiday collection and dedicated Advent calendar. Now, they needed to build anticipation for the upcoming line; thus, they've launched a series of short videos made by influencers with an ASMR view of them retrieving the adorable miniatures of their cosmetics from the calendar. 
And it worked! Short-format videos caught the attention of the creator's audience and enabled the brand to showcase its product in a very engaging way.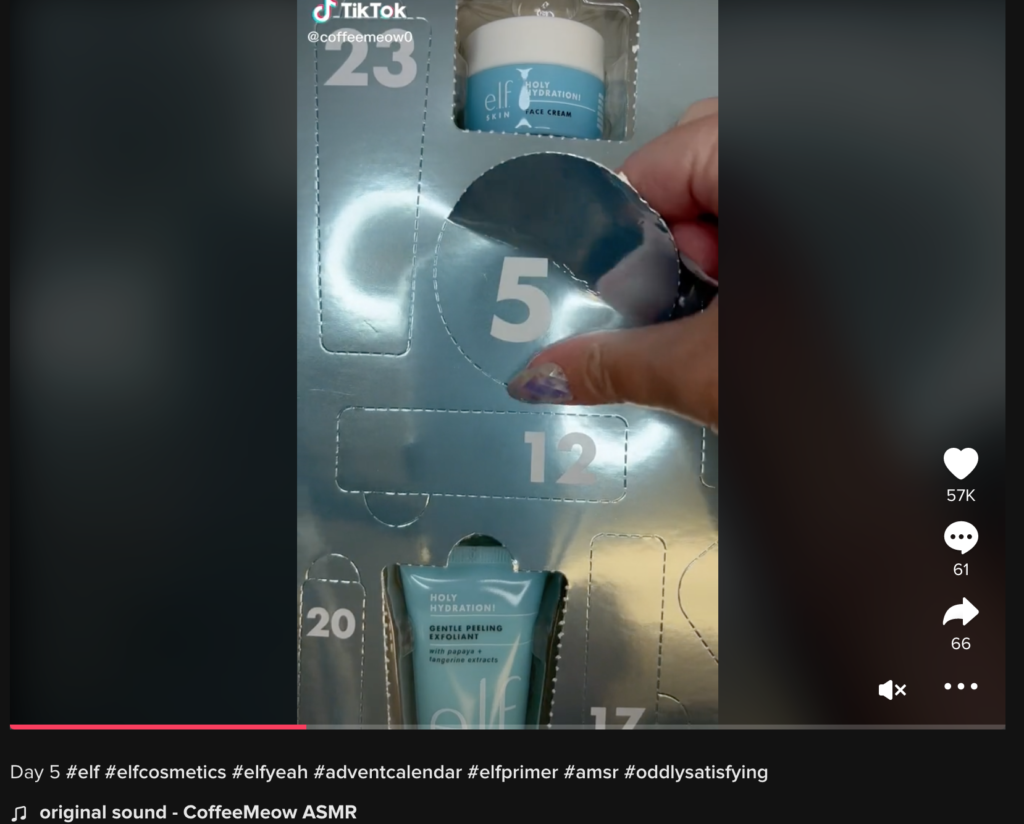 Hugo Boss
Luxury fashion brands, like Hugo Boss, also know the value of influencer marketing. Especially collaborations with micro-influencers. Take, for instance, their branded hashtag challenge campaign on TikTok, which they've launched to promote their then-newest collection. 
It all started with a clever hashtag – #MerryBossmas – and a collaboration with several micro-influencers. Then, the creators did videos with a dedicated pop-up filter, added in the hashtag, and the brand awareness spread through the platform like wildfire. More specifically, #MerryBossmas has been viewed over 4 billion times on TikTok! And it is probably the simplicity of the challenge and the fun aspect that allowed the campaign to spread as far as it did.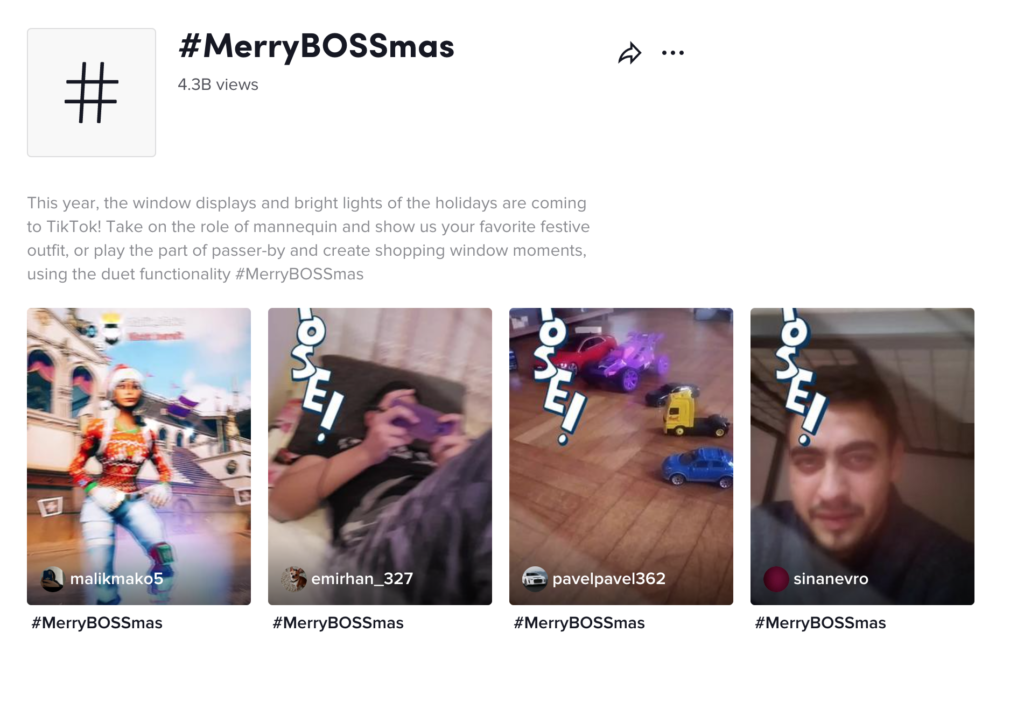 Lego
Lego definitely knows a thing or two about spreading cheer, and their 2019 campaign called #BuildToGive ticked all the boxes to become a viral sensation. The base idea here was to urge kids (and adults alike!) to build Christmas decorations from the bricks and share the images on social media with the #BuildToGive hashtag. So, already an engaging and fun idea. Then came the heartwarming part of the campaign – the company donated a Lego set to a child in need for each shared and hashtagged image. Now that's what we call holiday spirit!
To promote the campaign, Lego partnered up with parenting and family life influencers who shared tutorials on making Lego holiday decorations and encouraged people to participate. 
Target
Speaking of tutorials, here's one from Target. As probably every year, Target launched a festive gift-wrapping paper line to wrap your precious presents. However, this time, they've also collaborated with several DIY and home decor influencers to showcase the paper's beauty and show the followers how they could wrap their presents in an exquisite way and not like five-year-old handling scissors for the very first time. 
So, by collaborating with an influencer who's an expert in crafts, Target came up with videos that truly stood out of the crowd. The content was educational and genuinely pleasant to watch, encouraging people to buy the limited edition line from Target.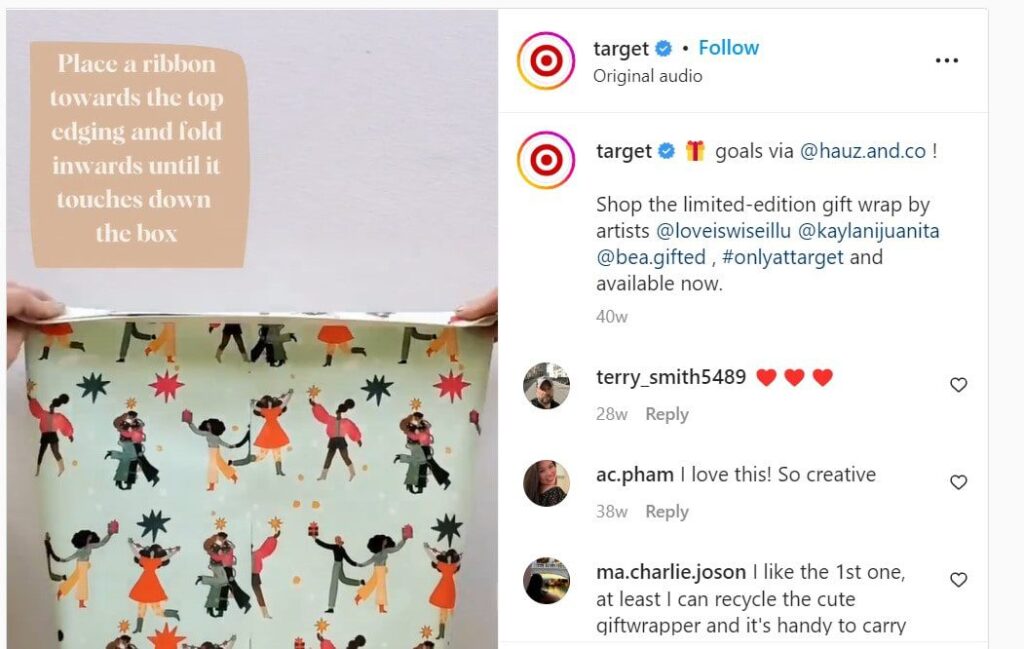 Daniel Wellington
Daniel Wellington's influencer campaigns almost always bring textbook success, usually surpassing expectations. Take, for instance, their brand awareness campaign in which the brand collaborated with dozens of influencers from virtually all interest groups. Of course, it proved to be a great success. However, to promote their holiday discounts, Daniel Wellington again surprised everybody yet again by choosing to partner up with mega-influencer Zoë Sugg. 
Personalized messages from mega-influencers can set trends and rewrite a brand's current public image. So, Daniel Wellington naturally tapped into this potential, collaborated with social media stars, and set new trends that catered exactly to their needs. A bold move, but definitely worth it.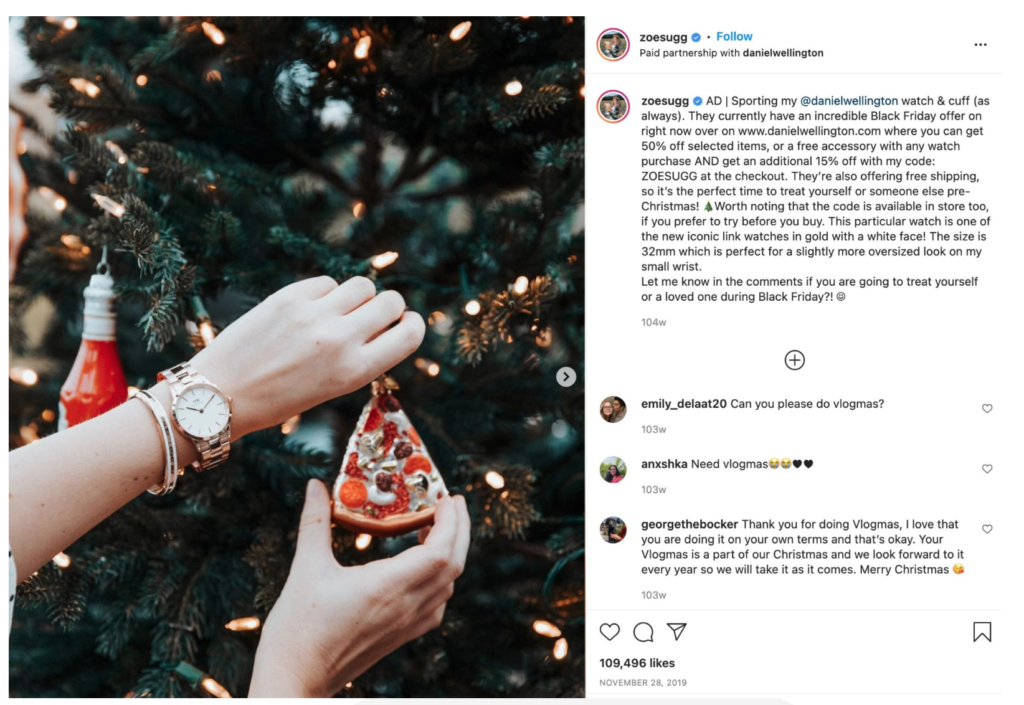 Calvin Klein
Calvin Klein knows how to delight its customers and the influencers they collaborate with. For their customers, the brand creates holiday gift guides, and for influencers, they throw lavish Christmas parties. And what do they get as a result? A huge increase in organic reach with holiday-themed content from the influencer parties and a solid encouragement for their followers to buy Calvin Klein goodies. 
Remember that a gift guide is always well-appreciated by customers – it saves their time browsing for the perfect gift and solidifies the brand's thoughtful stance.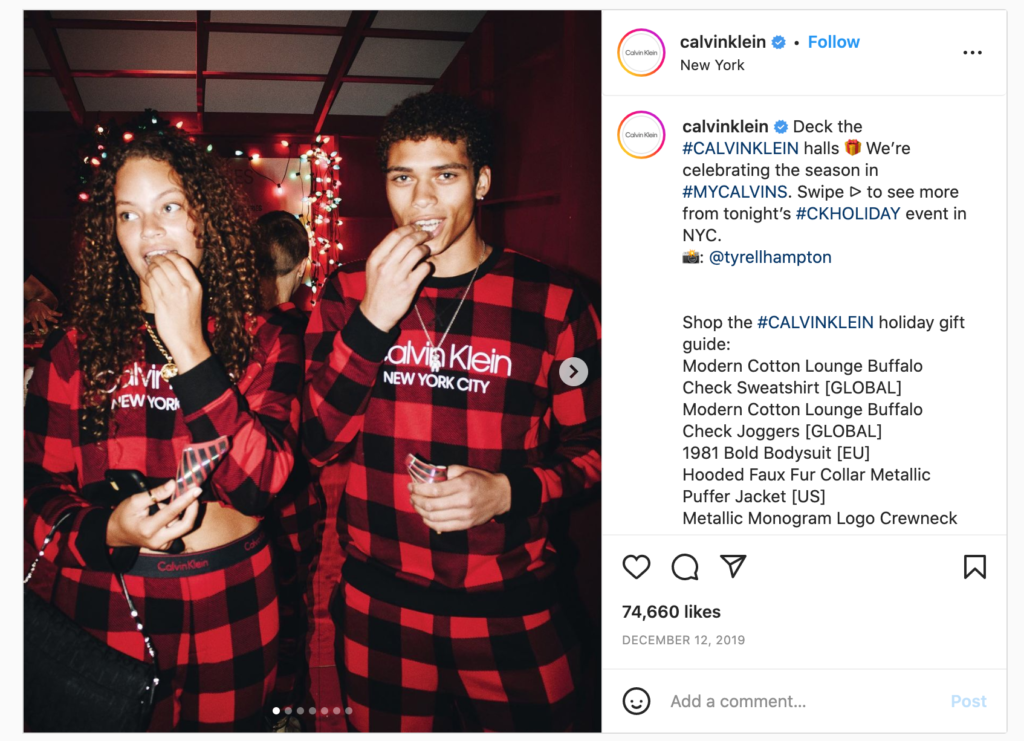 Pret A Manger
Pret A Manger, a high street coffee chain, basically won Christmas last year. So this is what they did – the exclusive food brand launched a TikTok campaign branded #JoyWithPret in which they've tasked the platform's users to upload videos showing what brought them joy. Of course, they've also asked them to use the designated hashtag and tag Pret A Manger in their submissions. To kick-start the campaign, the brand enlisted several influencers, and it all went smooth sailing from there on. 
The simply joyful idea behind the campaign caught on with the platform users, and Pret A Manger was delighted to see tons of user-generated content that reflected brand values to the point. And, well, you know, 3.3 billion views kind of speaks for itself.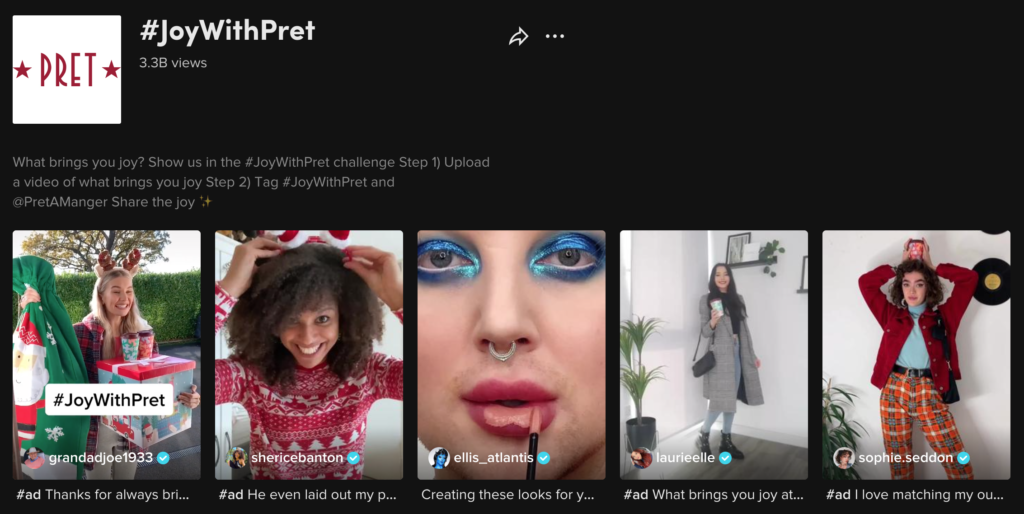 And that concludes our list. As you can see, almost anything works for the holiday season, as long as you add in a bit of charm and try your best to spread the Christmas cheer. Be it a digital Advent calendar, an all-star influencer party, or a challenge; you can surely find a modus operandi that works best for you and reflects your brand values.