Still not sure that a social media influencer campaign is the right thing for endorsing your hotel, resort, campsite, or hostel? We've found some great examples of various establishments collaborating with creators and absolutely winning on social media. If you're interested in how it works, just check the cases we've rounded up in this article. They sure are inspiring! 
Sun Peaks Resort
Sun Peaks, a ski resort in British Columbia, used the awe-inspiring backdrop of gorgeous mountains and the resort's remote location to their own advantage. They chose probably the best Canadian adventure photographer and Instagram influencer, Callum Snape (@CalSnape), to be the eye that shows the beauty of the location to the public. And as for remoteness – the resort presented it as an opportunity to get away from the crowds and soak in all that winter nature has to offer, presenting it as a sort of 'insider secret.'
With brilliant images, daily Instagram stories, and Facebook videos, the number of Sun Peaks followers shot up significantly among their target audience. Sun Peaks' example of smaller businesses using their size to their own advantage and ruling social media comes right on top of our list.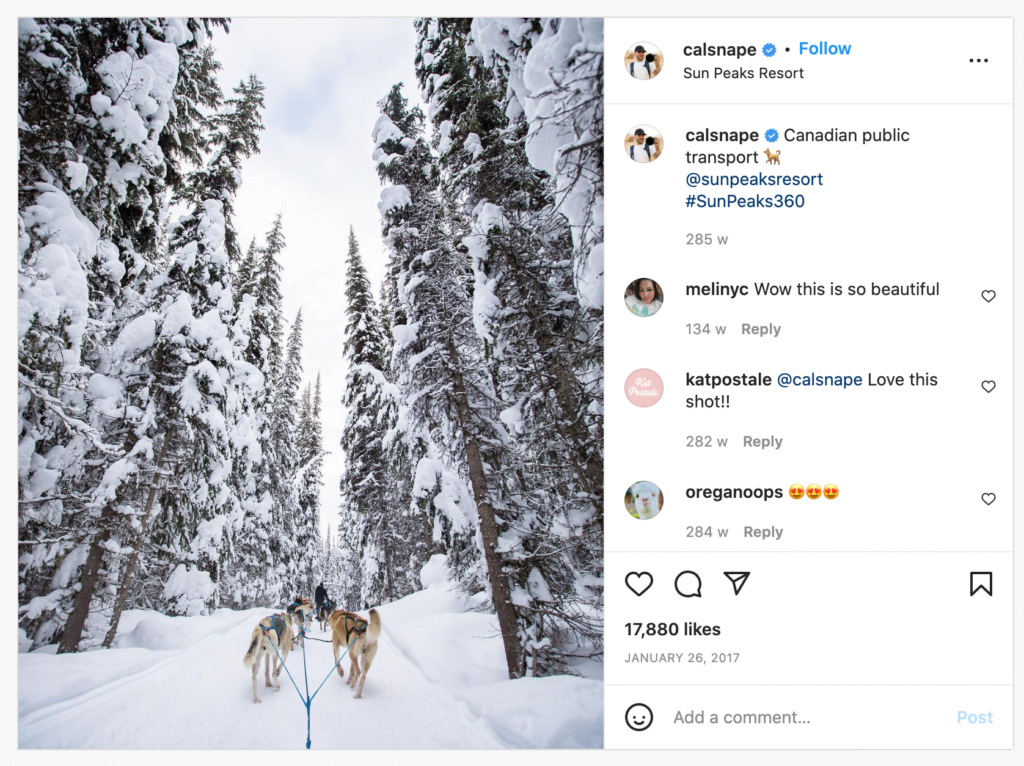 Marriott
Marriott is the real trailblazer for tourism brands embracing influencer marketing. After all, they once were the first to do so! This might lead us to think that they have their influencer marketing strategy down to the point and by the rules; however, their 4 million views-worthy video was completely out-of-the-bat.
The video was dedicated for the millionth check-in via the Marriott app, and the lucky user got a surprise dance party orchestrated by Youtube influencer Jeanna Smith, then-creator of the @PrankVsPrank channel.
Marriott's example shows perfectly well that while you do have to provide your creator with clear messaging, stifling their creativity with control is never a good idea. After all, they gained popularity with their own personalities and content.
Moxy Hotels
Time and again, millennials showed that they don't mind endorsements as long as they are good. Good, in this case, meaning entertaining and of stellar quality.
Take, for instance, the Moxy Hotels' idea of hiring Youtube influencer Taryn Southern (@TarynSouthern) to create a series where she interviews other influencers inside a room built to look like one in a Moxy hotel.
Her notoriously funny interviews gained a huge following, to which Moxy Hotels responded by sponsoring a second 'series' of Taryn's interviews.
St. Regis Hotels & Resorts
'Luxury' doesn't have to mean 'prim and proper;' it can also be perfectly suitable for families. Take St. Regis Hotels & Resorts – they've made their name for indulging those with luxurious taste, but that didn't play well with families, of course. Thus, St. Regis collaborated with a social media' mommy influencer' Naomi Davis (@taza). The latter spent a weekend in one of their resorts with her family and published a video describing her experience. 
And it worked like a charm! Without excluding their already existing audience and changing their whole marketing strategy, St. Regis advertised their resorts' perks exclusively to their target audience.
Giraffe Manor
Imagine Kenya and its most cherished locations with pristine nature. Now, add luxurious campsites and lodges into the landscape. It calls for celebrities to advertise, doesn't it? Well, not for Giraffe Manor, which is a part of The Safari Collection – the finest accommodations Kenya offers. 
Giraffe Manors chose to collaborate exclusively with luxury travel micro-influencers. This way, they knew their smaller audiences would make up for their dedication to the creator they are following, which in turn guaranteed the likeliness of followers actually staying in the Giraffe Manor. 
Another perk of working with micro-influencers is that they are pretty well acquainted with the likes and dislikes of their audiences. This usually guarantees that their content will be received favorably and will likely influence the audience's decisions.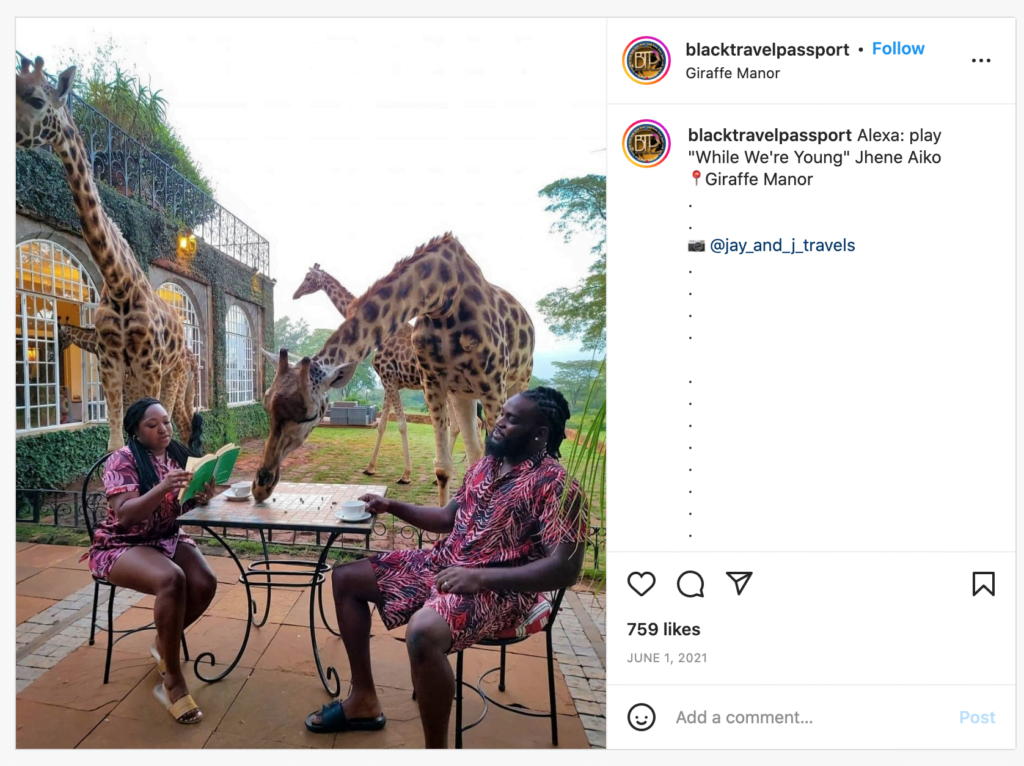 Fairmont Hotels & Resorts
While the name Fairmont itself might be unheard of to some, some of their 70 hotels and resorts worldwide will definitely ring a bell. How about The Plaza in New York, The Savoy in London, or the Fairmont Monte-Carlo in Monaco? That's right – the most famous and most decorated hotels behind the Fairmont name!
And although you'd think that such iconic places need no introductions or endorsements, Fairmont is definitely cooperating with influencers to spread the word even further. Their creators are asked to do walk-around tours with behind-the-scenes access like kitchens, staff rooms, and so on, to show the ins and outs of each hotel, giving the viewers an experience of actually staying there. And it works!
Another notable campaign that Fairmont did was to mark the 150th anniversary of confederation in Canada, which was a great opportunity to showcase Fairmont's most prized properties around the country. Including a luxurious ski chalet where a group of influencers were brought in a private jet and later did all the ski resort-appropriate entertainments. This one post resulted in around 33 million impressions via the influencers!
Ritz-Carlton
Ritz-Carlton is a real household name among hoteliers, with over 90 hotels and resorts spread over 30 countries. Their choice of implementing influencer-driven marketing into their regular marketing strategies was to spread it out. Meaning, that they've worked both with micro-influencers like the photographer Chris Aznar and Instagram's famous traveler Jack Morris to reach a variety of different audiences, which is especially important for such a huge worldwide name like the Ritz-Carlton.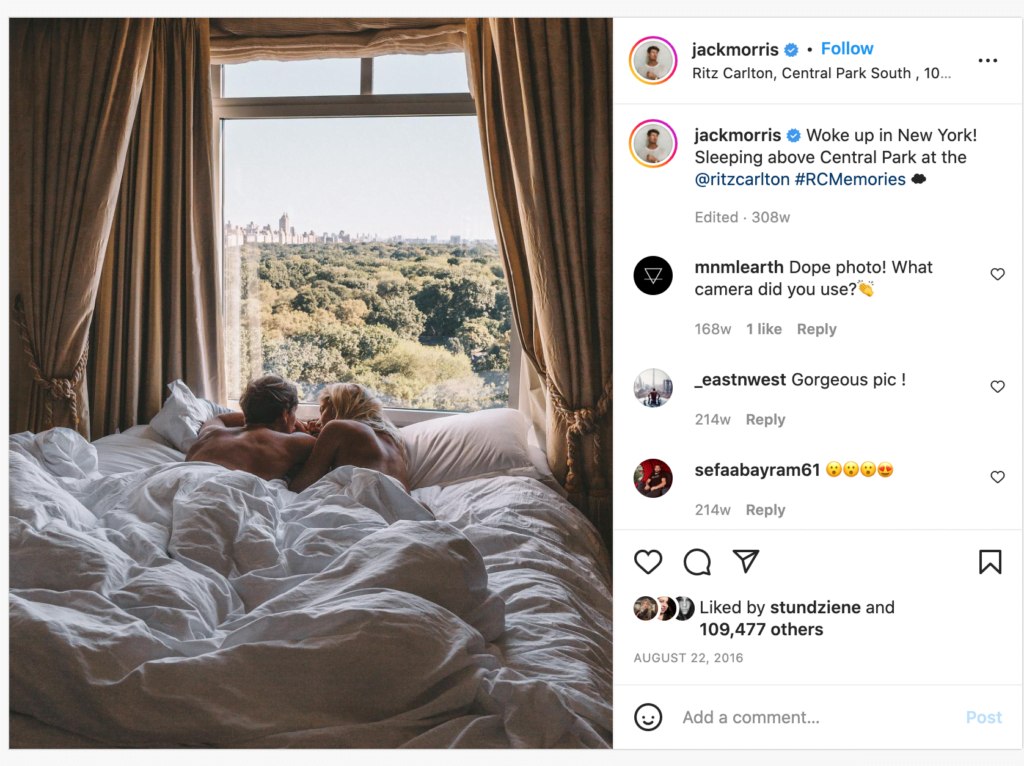 So, although there's no clear recipe for choosing an influencer marketing strategy for your own business, these examples might serve as an inspiration and a guide for trying your own hand in this still up-and-coming channel. To some, collaborations with micro-influencers and their dedicated audiences is the answer; to others – it's the spreading out between creators of various caliber, and still, some prefer to work only with celebrities. Either way, social media influencer marketing is an undeniable force to be reckoned with and harnessed for your own business' benefits.