Hello, and welcome back to our Social Media News of the Week section. In this article, we'll be talking about the following:
Meta's Expansion On Ad Targeting Restrictions For Teens And Addition Of an Ad Control Center For Young Users
YouTube's Analytics Updates
and
New Report Shows That Social Media App Usage Rose To New Heights In 2022
Meta's Expansion On Ad Targeting Restrictions For Teens And Addition Of an Ad Control Center For Young Users
Although Meta already had some ad restrictions on advertising to teens, like removing interest and activity parameters, it is going a step further with removing gender as an option for advertisers to reach teens. This will further limit advertiser capacity to reach targeted audiences focused on teens. As per Meta:
"Age and location will be the only information about a teen that we'll use to show them ads. Age and location help us continue to ensure teens see ads that are meant for their age and products and services available where they live."
There are various reasons for this decision by Meta, and it notes that teens 'aren't necessarily as equipped as adults to make decisions about how their online data is used for advertising, particularly when it comes to showing them products available to purchase'.
Gender targeting can also be a catalyst for cultural bias to some degree, while targeted ads based on in-app activity could see inappropriate ads shown to younger audiences.
So while Meta's action against targeting teens with promotions has already been in place, these further expansions solidify the app's effort to shield younger users.
In addition, Meta's also releasing new options that will allow teen users to control the ads they see in the app:
"Starting in March, teens will have more ways to manage the types of ads they see on Facebook and Instagram with Ad Topic Controls, expanding on what's already available. Teens will be able to go to their Ad Preferences within Settings on both apps and choose 'See Less' or 'No Preference' to further control the types of ads they see."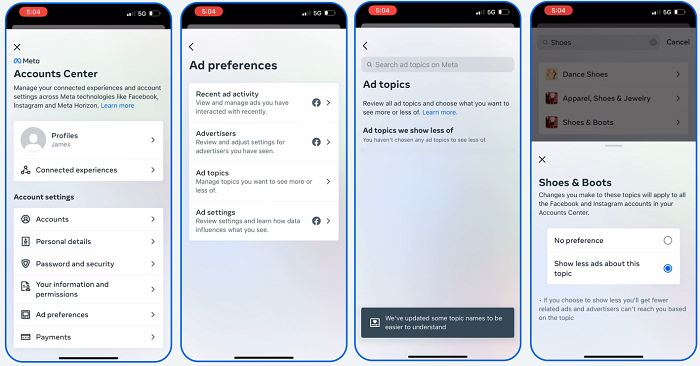 While all users have access to Meta's Ad Preference tool, teens will have more control over the promotions they see in the app by having the opportunity to opt out of any topic or topic groups they don't wish to see.
"Our Advertising Standards already prohibit ads about restricted topics – like alcohol, financial products, and weight loss products and services – to be shown to people under 18 (and older in certain countries). But even when an ad complies with our policies, teens may want to see fewer ads like it. For example, if a teen wants to see fewer ads about a genre of TV show or an upcoming sports season, they should be able to tell us that."
In fact, we couldn't agree more here – the content shown for younger users in any social media apps should be monitored as much as possible, and if teens themselves are given control to opt out of the topics they do not like, it might make the internet safer for them.
REDUCE MANUAL WORK OF RUNNING INFLUENCER CAMPAIGNS
BY 80%
YouTube's Analytics Updates
With the first Creator Insider update of the year, YouTube has announced a range of new analytics and display options, including data on subscriber growth, Shorts thumbnails, subscriber recognition options, and plenty more new and exciting things.
For starters, YouTube is introducing a new component to YouTube Studio that will show a breakdown of the number of subscribers attracted by each category of content, offering more context to the success of videos.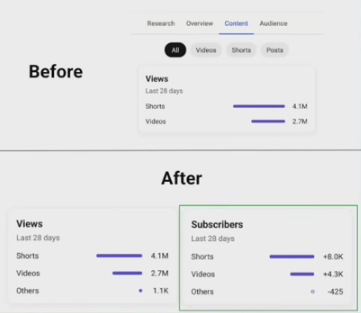 Creators have always had access to this more detailed growth breakdown through YouTube Analytics. However, now that YouTube is presenting this information up-front, it will be simpler to understand how each video and video format affects the growth of your YouTube channel.
Which very much directly correlates with Shorts and the expansion of short video segments in the app. These insights may assist in putting things into perspective as YouTube seeks to increase the consumption of short-form videos while also better highlighting to creators how popular the format is.
In a related development, YouTube is enhancing the YouTube Studio mobile app with a new display of the material your audience is viewing across formats kinds.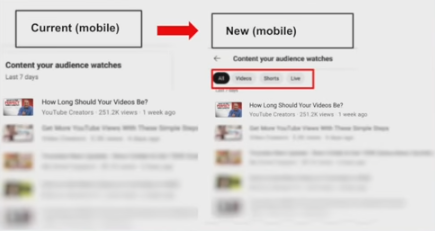 The new structure will, as you can see in this illustration, break down viewer history by Shorts, videos, and live streams, which will again provide you with a better idea of what your audience is interested in.
As per YouTube:
"To see this card, go to studio analytics, audience tab, and filter videos your audience watches by content type. The goal is to give creators a better understanding of what types of content their audience is watching to help with inspiration and keep an eye on what is happening in their space. This may be especially insightful for formats a creator has not tried yet or does not publish often. For example, shorts, lives, et cetera, et cetera."
The short-form video has quickly gained popularity, making it a crucial component of YouTube's growth strategy. To meet this demand, YouTube wants to encourage more producers to upload Shorts.
YouTube is also introducing a new feature that will let creators of Shorts choose a frame from their Short to be used as a thumbnail during the first upload process.
While YouTube also mentions that it is working on additional ways to further customize Shorts thumbnails in the future, this will provide Shorts creators another chance to customize their material and maximize response.
At this time, only Android has the option to choose a frame for your Shorts thumbnail.
The member recognition shelf display on YouTube, which displays a few member avatars on channel pages, is also being updated.
"We're now experimenting with extending the member recognition shelf to video descriptions on mobile, where it would be part of the info card section. The goal is to increase new member signups. Creators will have the option to disable the member recognition shelf in the description in the studio."
Last but not least, YouTube is expanding its advanced YouTube analytics mode to include video thumbnails and content duration, offering more information for individual video performance. A few intriguing changes, with YouTube's next-level strategy once more centered on Shorts.
These announcements make it quite apparent where YouTube is focusing, so if you were unsure, you should probably upload Shorts in 2023 to be most in line with YouTube's priorities.
HUNDREDS OF INFLUENCERS ARE WAITING FOR YOU
New Report Shows That Social Media App Usage Rose To New Heights In 2022
The organization formerly known as App Annie, data.ai, has released its yearly analysis of app performance trends, including all the significant changes and advancements to watch in 2022.
The 91-page report offers a wealth of information about numerous app industries. The whole report is available for download here (with email sign-up), but in this article, we'll focus on the social media-specific observations and the major trends that emerged in social apps during the past year.
Data.ai first draws attention to BeReal's explosive growth as a result of consumers' desire for a more straightforward, honest social media experience.
According to the report:
"BeReal broke out as a popular social sensation in 2022, appealing to users by selling a more authentic, less curated experience. In fact, no social app has added more new users in the US in any of the past five years than BeReal's 5.3 million in August 2022."
Because BeReal didn't consistently rank among the top downloads across the board in most locations, that statistic alone may be a little misleading.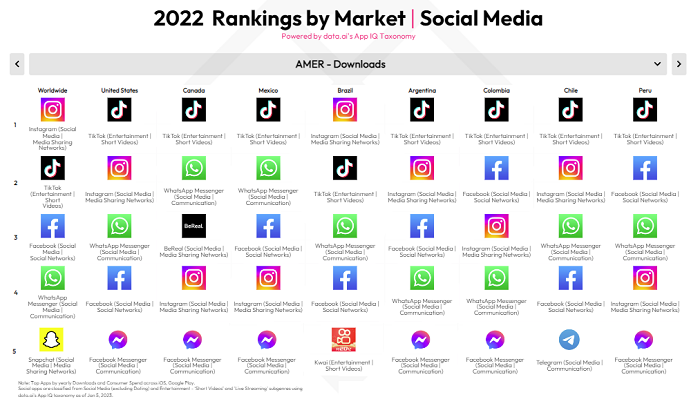 As you can see, TikTok also did well in most markets, but the crown is still safely in Meta's hands.
The difficulty for BeReal right now, as data.ai points out, is diversifying and growing on that attention because while asking users to post a picture once a day definitely has some appeal, there isn't much engagement or profit potential inside that.
This might not be a problem because BeReal itself doesn't appear to know if it wants to include advertisements at all. However, it will eventually need to cover its expenses. Therefore the app will need to include some kind of add-on or advertising to make money.
It is unclear whether it will be able to persuade users to cross that bridge.
The insights from data.ai's social report also indicate that TikTok made the highest in-app income of any social app in 2022, making it the other major talking point.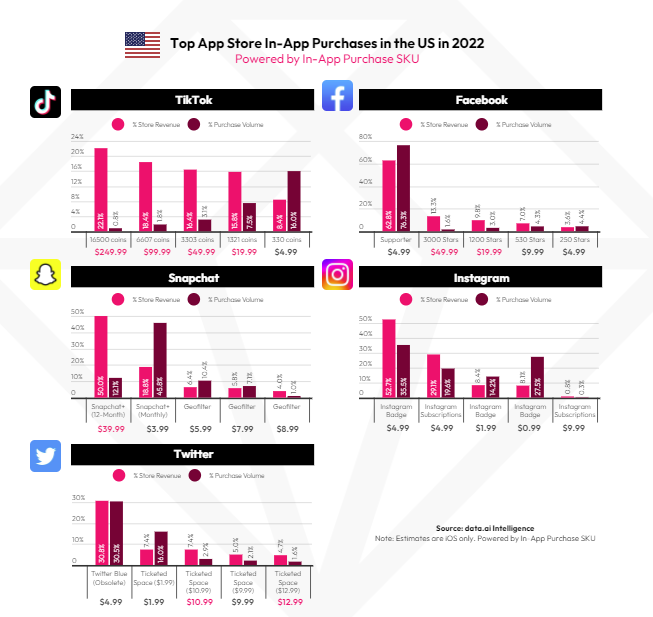 These charts, which show exactly what users were purchasing in each app, show that TikTok has sold a lot of its in-app Coins, which let users give money to creators or purchase things in-stream.
These are especially well-liked on live streams because they let viewers buy things and support presenters within the app. The figures above reveal that more TikTok users are purchasing in-app cash, which points to future potential for the process, provided it can get it right. Live-stream shopping hasn't really taken off outside of China yet.
As you can see, Instagram's live-stream badges, which promote your comments in-stream, have also performed pretty well compared to its other products, as have Snapchat's Snapchat+ subscription option's in-app sales.
However, since these aren't actual purchase amounts, it's difficult to really value these statistics.
Additionally, the Twitter Blue numbers displayed above refer to the previous $8 verification plan, not the new one.
The US has already surpassed China and Japan as the leading market for consumer spending on social apps, according to data.ai, while smaller markets are also experiencing more growth in in-app spending.
"Markets outside of the big three (the US, China, and Japan) only combined for 30 percent of consumer spending in 2019. This climbed to nearly 40 percent in 2022 while global spending more than tripled over this period."
That once more illustrates the potential for in-stream purchasing and creator monetization, provided that each platform can perfect its own offering. In order to capitalize on and expand this behavior, consumers are becoming more and more eager to make in-app purchases. To encourage this behavior, better payment experiences and solutions must be made available.
The overall amount of time spent using social apps increased 17% year over year, reaching 2 trillion hours on Android phones in 2022, according to data.ai.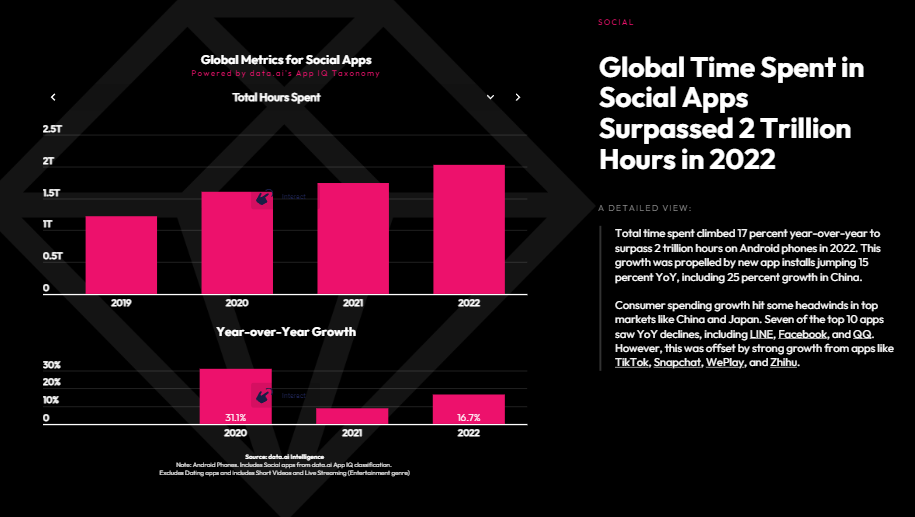 As mobile video consumes more and more user time, it is evident that social applications continue to dominate attention. This is an important trend to keep in mind for marketers who want to increase attention and reach.
Overall, the data probably doesn't show anything particularly startling or unexpected, but it is important to note the precise statistics underlying the major patterns and what they might suggest for future growth.
Based on the time and money spent in-app, TikTok appears to be sitting on the greatest opportunity, as you can see. TikTok might continue to grow in 2023 if it can build on these traits and avoid being banned in the US.
DATA-BASED INFLUENCER MARKETING SOLUTIONS