Welcome back to our Social Media News Of The Week section. This time we'll be checking out the stories behind:
'Social Skills' – Meta's New Video Series Aiming To Help Marketers
TikTok Launches New Audience Insights Tools
And
WhatsApp's Business Search Functionality And In-Stream Payments Expansion
'Social Skills' – Meta's New Video Series Aiming To Help Marketers
Meta has just released the latest episodes in its 'Social Skills' video series, in which Meta's Laurise McMillan speaks to high-performance social media managers about their strategies, approaches, and results to help others learn from their practices. So, just in time, if you want to fine-tune your social strategies for the holiday season.
The interview series explores key elements for maximizing Facebook and IG campaign, including but not limited to topics like:
A/B testing
Audience analytics
Building community
Creative ad tips
Building brand impact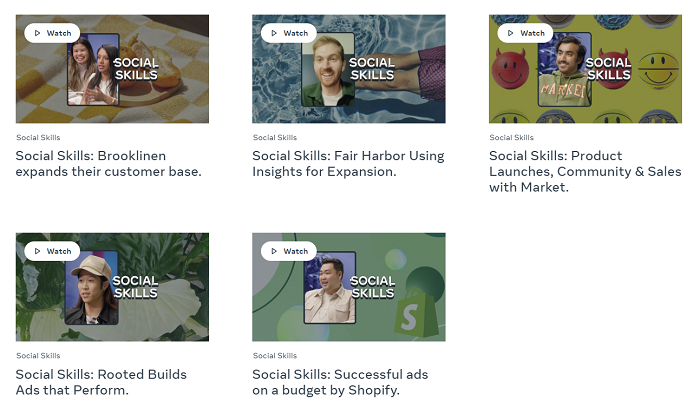 What's really useful is that each video is built around a specific focus element, showcasing practical elements of how each brand has been able to use Meta's tools to build its business. So, in theory, you can easily emulate their steps and practices after watching these explanatory videos. Another bonus point is that the videos are usually just around 4 minutes long, so it doesn't take too much time to absorb the tips or fish them out of long talks.
You might be confident in your marketing strategy as it is already, but investing just a tiny bit of time to learn about new tips and tricks is always worthwhile. On the other hand, if you're looking for an element to tweak your practice, these videos might carry the exact message you were looking for. However, you'd really have to watch them first.
You can find both the newest videos and the ones from the previous seasons right here.
TikTok Launches New Audience Insights Tools
If you were to enter TikTok's Ads Manager site and click on the 'Reporting' section, you'd find Audience Insights – a very welcomed boost for TikTok advertisers. It enables you to look into specific demographic details about your audience in the app, including interests, usage behaviors, gender splits, and plenty more useful info.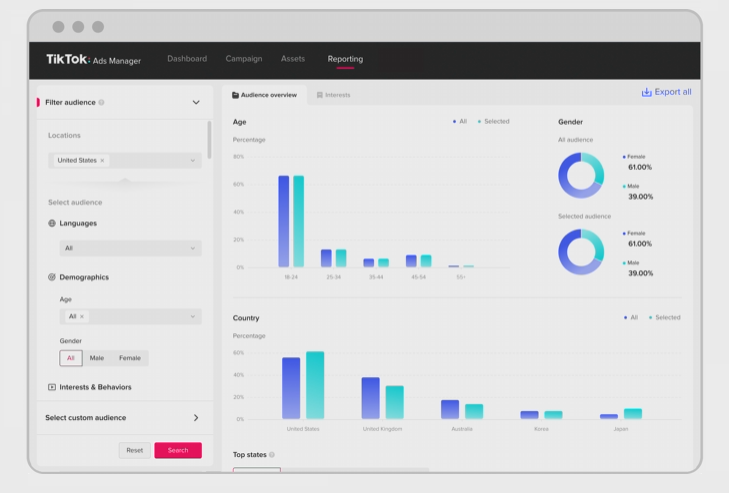 The full categorization options in the Audience Insights section are as follows:
Age demographics
Gender Splits
Interests
Video Interactions
Creator Interactions
Hashtag Interactions
Device
This will definitely provide much more information about your TikTok crowd, allowing you to refine your approach, including ad campaigns. And here's how TikTok explains its newest toolkit upgrade:
"Audience Insights can help you discover new audiences beyond those that you traditionally target. If any surprising or unexpected interest categories appear, you can try targeting these interest categories to see how they perform. For example, the data may show that the beauty advertiser's audience is also interested in apparel and accessories or in-app games. The advertiser may then consider targeting these interests to find new ways to scale."
It's a genuinely valuable addition – even without extensive digging into the data, you will be able to find interesting bits of info, trends, and notes about your audience that might help you tweak your approach to its maximum potential.

WhatsApp's Business Search Functionality And In-Stream Payments Expansion
Okay, so it's no news that media engagement increasingly shifts to messages, and with the trend solidifying its position, Meta is taking further steps to maximize business opportunities in messaging, including Click-to-Message ads and other direct connection tools.
This, naturally, extends to WhatsApp, too, with Zuckerberg announcing a new update for the app allowing its users to search for businesses directly in its UI.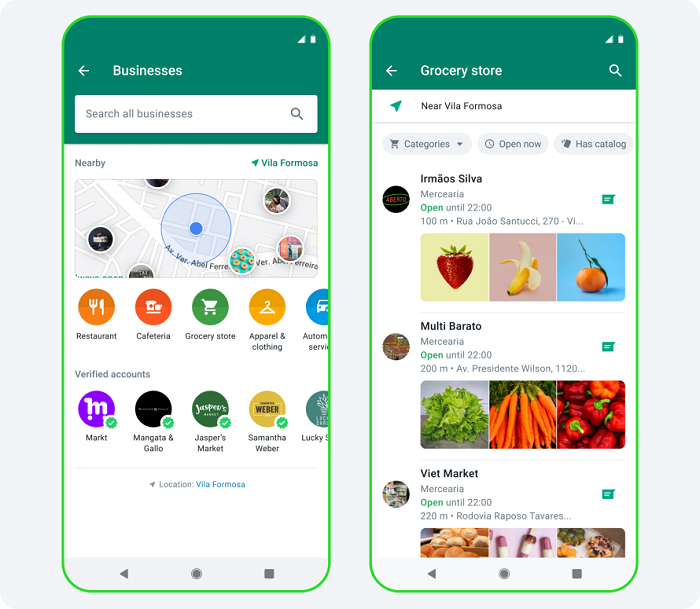 As you can see in the example, WhatsApp users will now be able to search for businesses in the category of their interest. This will be available in the app's search field and include a mini-map allowing users to browse for nearby businesses, making accessing various in-app shopping options easier.
This is what WhatsApp is saying about the update:
"We've built business search in a way that preserves people's privacy. What you search for is processed in a way that cannot be linked back to your account. To start, we're bringing the ability to search for a business to Brazil, Indonesia, Mexico, and the UK, where people can find companies using our WhatsApp Business Platform. In Brazil, the search will help people find small businesses as well."
And with WhatsApp rapidly growing in popularity and with more people sharing updates in private DM groups rather than directly on their social feeds, the shift is also visible in customers' willingness to contact brands via DMs, too. So, you might want to think about adding WhatsApp as a connection option, especially once these search options are fully functional.
In addition to these new search options, Meta's is also expanding WhatsApp payments:
"Ultimately, we want people to be able to make a secure payment right from a chat with their credit or debit card. We recently launched this experience in India, and we're excited to now be testing this in Brazil with multiple payment partners. This seamless checkout experience will be a game-changer for people and businesses looking to buy and sell on WhatsApp without having to go to a website, open another app or pay in person."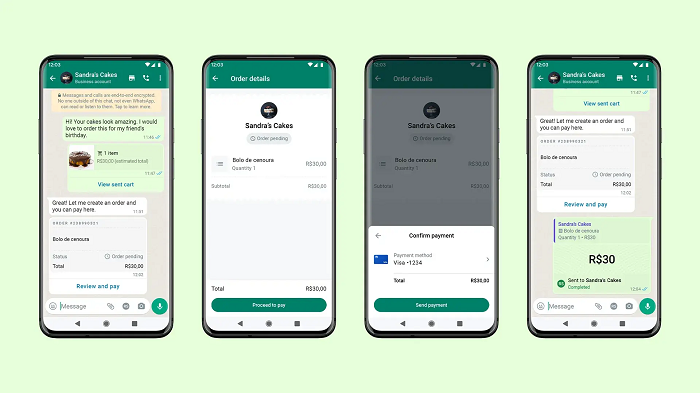 And while WhatsApp is the dominating force in India and Brazil, for now, it's quickly gaining popularity in the US and Europe as well. Thus, it might be a good idea to figure out how your brand can integrate WhatsApp into its strategy as Meta continues to build out its WhatsApp Business tools.