There's no denying that the beauty and cosmetics industry is one that is the fastest-changing, ever-evolving, and trend-setting. If not so long ago it was all about 'hiding the imperfections', then now the beauty industry is all about embracing your natural looks and voicing the socially-conscious ideas of their customers. And that's exactly how we like it!
However, we also understand that keeping up with the constantly changing marketing and messaging trends is a tough job, so we've rounded up some of the more recent collaborations between beauty brands and influencers that tick all the boxes in today's beauty product marketing.
MAC Cosmetics
Although we're quite used to seeing up-and-coming beauty brands delve into the world of somewhat unconventional marketing based on influencers and creators, MAC Cosmetics – an almost 40-year-old brand – does not only keep up with Gen Z brands but often tops them in their messaging and content formats.
Take, for instance, MAC's collaboration with Johnny Ross. At first glance, Johnny Ross might seem like yet another makeup tutorial creator, but once you actually view his videos, you come to see that he's not just about makeup but also about comedic performances and a clear message on denouncing gender bias and overcoming homophobia in the fashion industry.
By collaborating with him, MAC Cosmetics solidifies its image as an open and authentic brand while also tapping into a whole new demographic.
Glossier
Have you heard about the concept that anyone, no matter the follower count on social media, can be the perfect ambassador for a brand or an idea?
Enter Glossier a back-to-basics beauty brand that has relied on the aforementioned idea to be the guiding light for brand marketing since its conception in 2015. And as of right now, Glossier has an army of about 500 brand ambassadors, a.k.a micro-influencers, who stand behind the brand.
And why does it work for Glossier? Remember when we said that the main value of the brand is back-to-basic beauty with an emphasis on natural looks? By allowing these real people to showcase their products, Glossier wins on many fronts – from brand awareness to staying true to their message, these micro-influencers
P.S.: WE HAVE WHAT YOU ARE LOOKING FOR
Origins
Origins is a brand that is all about natural and cruelty-free products. Thus, the brand's goal was to reach out to a young and socially-conscious audience. Now, if your goal is this kind of audience, there's one crucial part to be done in your groundwork – building authenticity. That's why Origins chose to work with influencers because the clear sense of authenticity is definitely one of the biggest upsides of influencer marketing.
Now, Origins have constant ongoing influencer collaborations to help them convey their eco-friendly messaging. In addition, the brand pairs its campaigns with relatable branded hashtags, like #GreenThePlanet and #EarthMonth to provide their influencers a place to shout out Origins' eco-focused cosmetics.
We think Origins' example is one of the best ones in showing the potential of brand and influencer collaborations that truly speak to their audience's core values.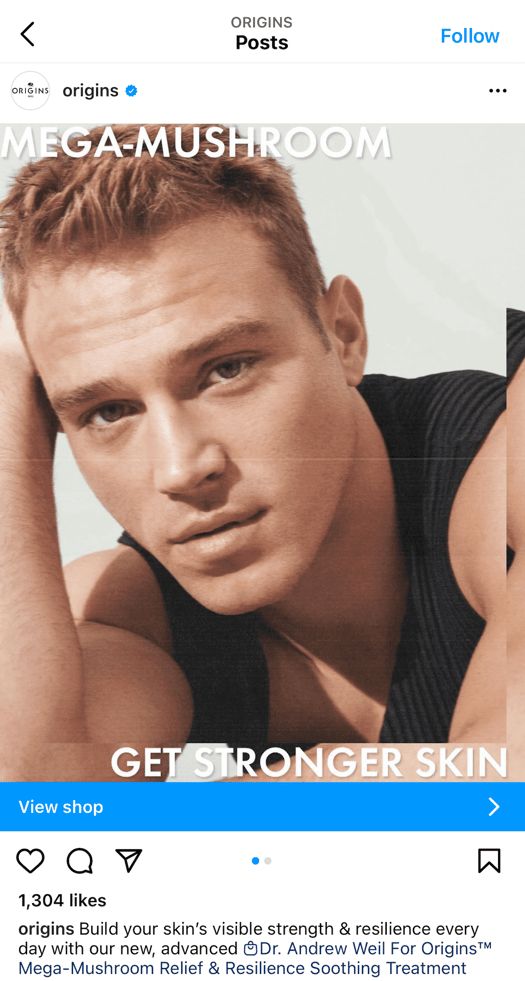 MILK Makeup
While MILK is known to feature UGC from micro-influencers on their socials fairly often, that isn't the only way the brand shows its appreciation for its customers and followers. In fact, what MILK does is actively listen to its customers and show small but meaningful gestures that they are doing so.
Take, for example, the brand's personalization of customer shout-outs and the thoughtful feature of using the creator's pronouns when tagging them in their posts. Now, this might seem like a small and insignificant detail. However, it actually highlights the personal relationship and respect that MILK has for its customers.
The takeaway here is this – don't forget about the details when thinking about the bigger picture. People do notice and appreciate each thoughtful thing you do for them!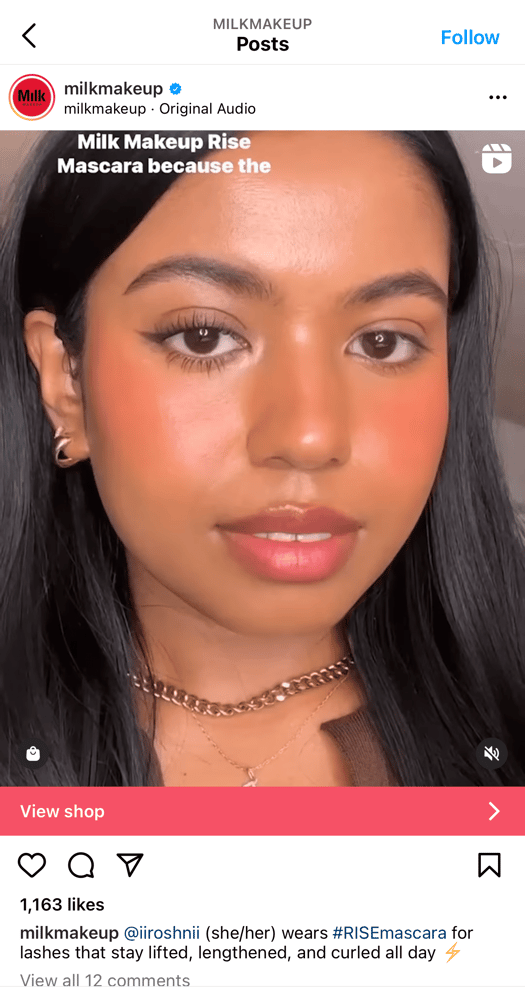 CeraVe
CeraVe is one of those brands that seemingly came out of nowhere, took socials by storm, and now there's at least one of their products in virtually every medicine cabinet, in every bathroom everywhere.
However, that's not entirely true – while the brand did seemingly become famous overnight, it was actually a carefully thought-through and meticulously planned omnichannel marketing effort. In fact, we might need a whole article to mention all of them, but let's stick to one of their TikTok campaigns for now. In it, CeraVe collaborated with TikTok's household name Charli D'Amelio who has over 130 million followers, one smaller-scale cosmetics enthusiast, and two dermatologists.
Now, although the line-up was already great, they also needed a hook for their content. So, CeraVe adopted all of the codes for TikTok by creating videos using the collage function and creating choreography for their four KOLs to highlight CeraVe's moisturizing cream.
The result: views topping the 130 million benchmark and more than 300,000 followers on the brand's TikTok account!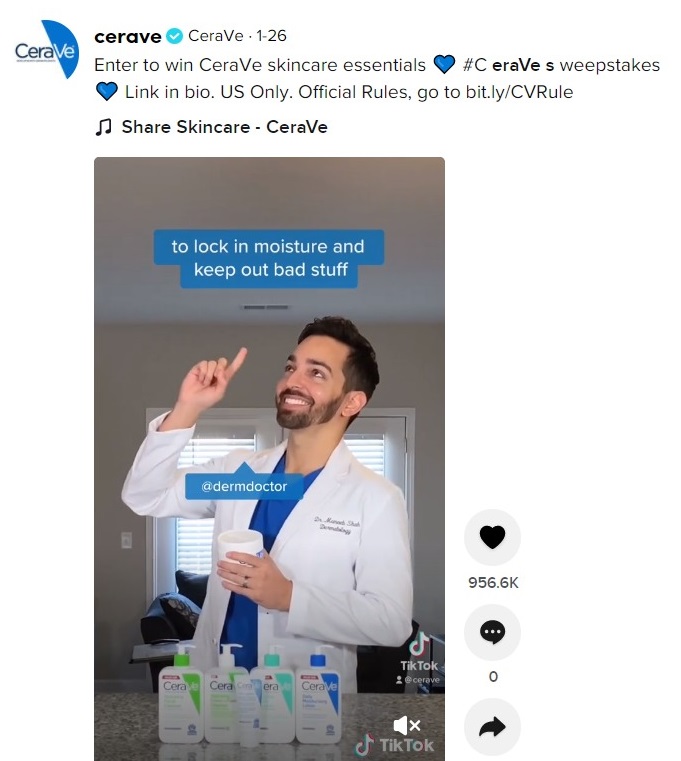 AGENIC CONTROL – THE ULTIMATE SOCIAL LISTENING TOOL
Eminence Organic Skincare
Who better than real people to promote a skincare brand based on all-natural, eco-, and skin-friendly ingredients?
Eminence is known to work with all sorts of influencers – from their regular everyday fans to skincare professionals. One thing that unites them, though, is their willingness and authentic eagerness to show off Eminence's organic and eco-friendly products.
Now, although Eminence could absolutely draw the line there and rely solely on its devoted fans, it pushes the envelope further by constantly engaging with its audience by asking them questions and picking their brains.
Eminence is one of those brands that prove that excellent beauty content does not require celebrities!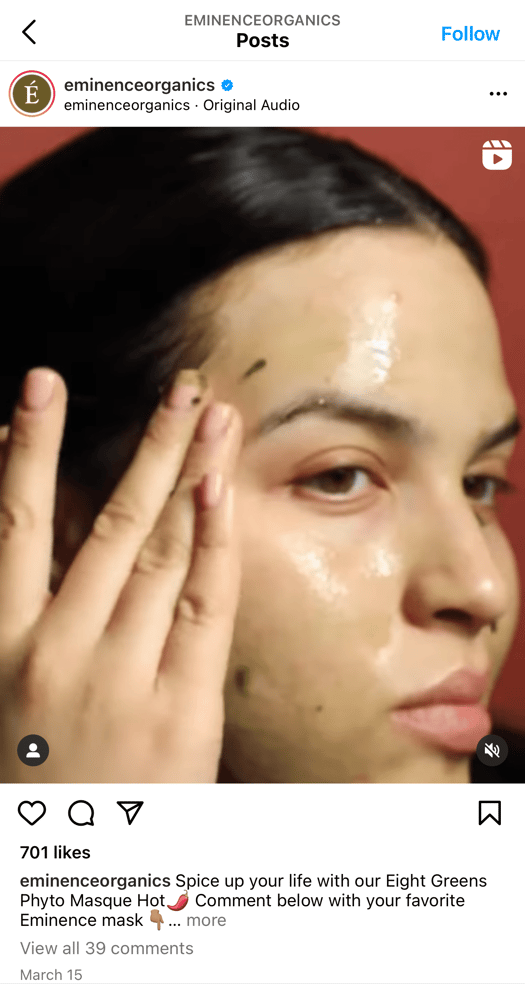 Skin Gym
Now, this one might come up as a bit off-beat but bear with us. So, Skin Gym is a brand that strives to bring the ultimate spa experience to its customers' homes. That is all well and fine, and we've seen plenty of brands with a goal like this. However, what sets Skin Gym apart is their actual products – from rollers to LED masks and facial ice globes, they do not stop with simple awesome-smelling moisturizers.
This is where a problem arises – while some of these doodads might sound familiar to beauty professionals and dermatologists, they might come across as pretty useless or far-fetched to those unfamiliar. However, this is where Skin Gym knew they had to show off their products with UGC, where their customers can clearly see how the products are used and what visible benefits they create.
Yup, it is exactly the influencers who have the power to do that and reach new customers, whether they are just browsing or ready to buy. So, Skin Gym's example is a truly successful one in showing us yet again that influencers are irreplaceable in expanding the reach and raising brand awareness.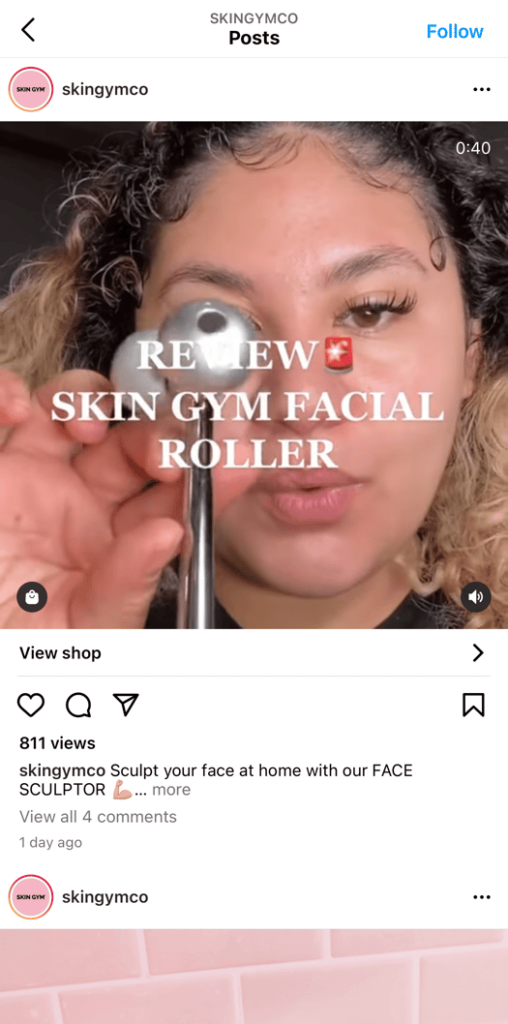 Takeaway Note
As you can see from these influencer marketing campaign examples, authenticity and staying true to your ideas aren't going anywhere and have even grown to gain more significance than ever before. So, be proud of your ideas and spread the word about your brand with the help of influencer marketing!
And if you need some help with that, don't forget about our Agenic Influence platform.
SOCIAL LISTENING ISN'T ROCKET SCIENCE